Make Your Own Wedding Invitations:
Tips, Ideas, and Tutorials To Create Fab Homemade Invitations
So You want to make your own wedding invitations? Most Bride's-to-be want their invitations to be perfect. And I know that for many the first image that pops up in their mind is something that looks homemade, shabby and cheap. I want to show you how you can create your own handmade wedding invitations that are affordable without looking cheap.

One great way to get a perfectly customized and one-of-a-kind, unique invitation, is to make it yourself.

Even if your concerns do not lie with having a truly one-of-a-kind invitation, do it yourself wedding invitations will certainly save you money. Making your own invitations is one of the most popular of the many ways to cut costs from your wedding budget. Some brides-to-be forgo this idea with the thought that they are just not creative enough to make an elegant handmade invitation. And this is where I want to help. On this page I'll share all of my tips, advice, and even some step by step tutorials on making handmade wedding invitations with style and class.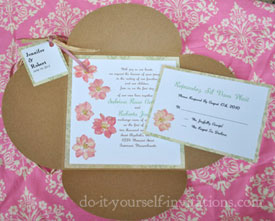 And trust me, I know about keeping it on the cheap. I hosted my own low budget wedding. And, of course, I made my own wedding invitations. I created my invitations for less than $50.00 for around 100 guests. That includes all the supplies and paper, copying and cutting, etc... Not only that but I made my invitations all myself, single handed and on short notice since I waited until the last second. You can make your own wedding invitations on the cheap, and do it without breaking too much of a sweat. I want to show you how!
Homemade and DIY Wedding Invitation Ideas
Below are some of my wedding invitation ideas. Each invitation has step by step instructions. You can choose to use the same exact method I use to make your own wedding invitations exactly as I did, or get creative with my ideas. Mix and match ideas, colors, papers and themes. Make them your own! That's the beauty of creating your own homemade wedding invitations. You are in control! You get exactly what you want!
Ideas And Tutorials To Make Your Own Wedding Invitations

Destination Passport

Black and White


DIY Pocket Invites


Printable Pocket


wedding invitation templates


Winter Gatefold

Couture Butterfly


Fall Wedding


Cloth Pocket Invitation

Las Vegas Wedding


Cherry Blossom


Pink and Brown


Celtic Invitations

Asian Wedding

Autumn Wedding

Rose and Cream

Irish Wedding

Heart "Love" Theme

Daisy Invitations

Lavender Damask

Christmas Wedding






Winter Wedding

Gerbera Daisy


Reader
Submitted Invitations

Beach Theme


Bamboo Invitations

Rubber Stamp Invites

Butterfly Invitations


Snowflake Invitations


Design Your Own

Pinecone invitation


Pink and Green


Cloth Handkerchief

Palm Tree Invitations


Beach Wedding

Where Will I Find The Time?
And I know what some of you will say. "Planning a wedding is time consuming and stressful. When will I have the time to make my own wedding invitations?" Simple. Get help.
It takes time to research different invitation vendors and artists. You then have to take the time to pick out and order the invitations as well. It could take just as much time, maybe even less, to take a trip to the arts and crafts store to pick out papers and supplies. Save even more time by picking them online. Then you just have to come up with a design and make just one invitation. Next enlist the help of some of your most creative friends and family members. While you are busy with all of the other details of planning a wedding your friends and family can help you out by taking over the assembly of your invitations.

Still worried about time issues? Here are some ways to help speed up the process:
Use blank cards to make your own wedding invitations. Many of the ideas on this site can be made using blank cards. Just print onto the outside and then decorate the inside.
Utilize the services of a local copy shop to help get the text on paper. You can also have your invitation cut and folded. It is inexpensive and fast.
Use our printable wedding invitations kits complete with printable RSVP's and Thank You cards. We even offer deluxe kits with STD's, menu cards, programs, and much more.




Tips And Techniques

Make Your Own Pocket Fold Wedding Invitations - pocket fold invites are a super popular choice for modern elegant wedding stationery suites. But they can also run you a pretty penny. Here's how you can DIY the pocketfold invitation and make your own wedding invitations that are unique and fabulous.



Make DIY Wedding Invites and Stationery with our free printable weddng invitation templates - I wanted to make it a little easier to print your invitation and stationery items multiple per page, so I added these templates to help you on your way. Make your own STD, RSVP, menu, and enclosure cards. Also, favor tags, wine labels, and place cards are on the list. And don't forget invitations. A very useful template if you are taking a crafty approach with rubber stamps, stickers, or the like.





Make Invitations with Rubber Stamps - Use rubber stamps to create fabulous and affordable invitations. With just one stamp you can create an entire branded wedding stationery set to go along with your wedding theme and colors.






Making Handmade Paper Invitations - One of my favorite materials to use in creating homemade wedding invitations. Handmade paper can lend a touch of class and whimsy to just about any wedding craft.






Make Handmade Invitations Using Pressed Flowers - So delicate and feminine, pressed flowers can really dress up a handmade invitation. So, do you press them yourself? Or splurge just a tad and buy already pressed or pressed flower stickers?