DIY Cherry Blossom Wedding Invitations
These cherry blossom wedding invitations are my absolute favorite of the spring wedding invitations I have put together for clients this season. I love the delicate feminine appeal of pressed flowers paired with the rough textured cardboard cardstock pochette. Perfect for a springtime, summer, garden, or country theme wedding!

Materials used to make these cherry blossom wedding invitations:
12 x 12 Kraft paper cardstock (could substitute with a blank pochette)

8 1/2" by 11" 110 lb. cardstock

pressed flowers

glue runner and scotch quick dry adhesive
How To Make Your Own Unique Cherry Blossom Pochette Invitations
I started this project by making my own pochettes to use as the base of the invite. I will be the first to admit that this is time consuming. I make my own when I want to use a specific paper that may not be available in blank pre-made pochettes. OR if I want to save a bit of money.
To make the pochettes by hand I cut them from cardstock on a die cutting machine. You can also do this by hand using a template, but it may not come out quite as sharp looking, and it is much more time consuming. I would only recommend this if you have a small amount of invites to make. After the cardstock is cut to the petal fold shape to create the pochette I simply score the edges which are to be folded using a bone folder, and the fold all of the edges inwards. Viola! There is more detailed instructions on how to do this at my "make your own pochettes" page.

To create the inside of the invitation I layered two sets of paper. The first is some plain white cardstock I used to print the invitation wording onto. The second is some decorative spring green damask paper. The inside diameter for this pochette is 5.5" by 5.5". So I cut the decorative paper into squares measuring 5 1/8" by 5 1/8". The white cardstock with wording I trimmed to 5" by 5". I think the absolute easiest way for you to get the wording centered onto the paper, would be to have your cardstock cut to 5" by 5" and then print straight onto the small squares, provided that you are printing it DIY form your home computer. Otherwise I would have it set up 2 or more to a page and then copied and cut for me. ;-) I also print some response cards to the white cardstock. I printed them four to a page and trimmed it down to a smaller size. I do have a free wedding stationery template you can use to help with this. It even has cutting guidelines to help you trim them down.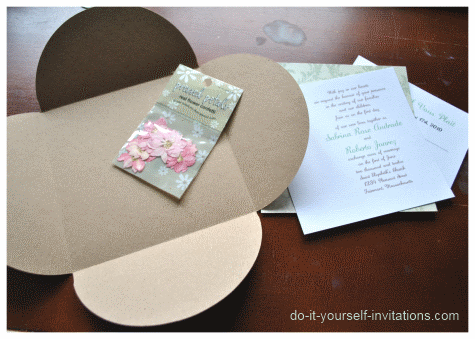 Next to attach the papers to the inside of the pochette. My favorite adhesives for this kind of project are permanent adhesive glue runner, or double sided scrapbooking tape. both are perfect for holding the papers down without warping the paper. You cannot detect that there is any glue or adhesive there at all. Love it! They can run a bit expensive though, so it's good to get in the habit of using them sparingly and placing the glue strategically.
To layer the papers I started by attaching the with cardstock to the green decorative paper. I applied a small strip of glue to each back corner and then a strip or two in the center. Center the paper as best as you can over the other. Next repeat this by adding glue to the back of the layered papers and centering them to this inside of the blank pochette.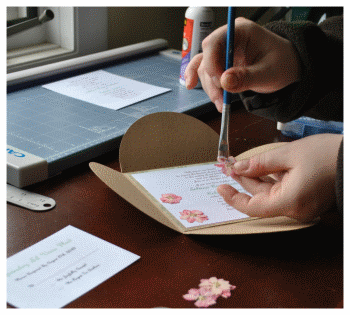 Now to add the cherry blossom pressed flowers. OK, I have a little secret to confess. The pressed flowers I used are not actual cherry blossoms! But they look quite similar and most would not know the difference. They are a pressed Lakspur. You can use any kind of pressed flower that suits your preferences really. This particular invite called for a "cherry blossom theme" and so I did the best I could. Lol!
I used some actual pressed flowers for this project. You can buy pressed flower stickers, and you can even buy real true pressed flowers that are already backed with adhesive. I simple used a small paint brush and delicately applied a small bit of quick dry glue to the backs of them. I know one really great selection of pressed flowers and real pressed flower stickers is Of The Earth. Definitely worth a browse if you are looking for this sort of product.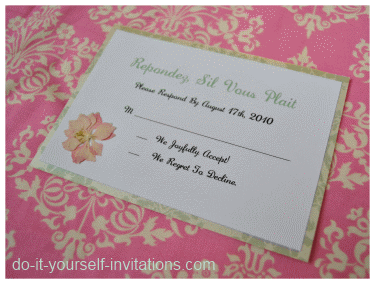 As I mentioned earlier, I also created a response card to place within the pochette. I kept this one pretty simple. It is merely printed onto the white cardstock with a bit of color added by printing some of the wording in a spring green color with brown text. You can choose for yourself whether you want to add a deocrative paper background, as I did. To finish it off and match with the theme/style I attached a pressed flower to the lower left hand corner. These cards were then placed within the petal folds within a small self addressed envelope.
To finish these cherry blossom wedding invitations I folded them shut with the RSVP card enclosed, and tied them using some pink ribbon and a strand of raffia. To add a nice, rich little detail, I created a small monogram card that I tied in with the ribbon and raffia. There is a template for making favor tags which I used to make this monogram tag. I simply printed the template onto white cardstock, trimmed it down to size and also cut some small squares from the same decorative paper I used within the invitations. I attached them layered together using some glue runner adhesive and then punched a small hole in the corner. They are a perfect matching adornment!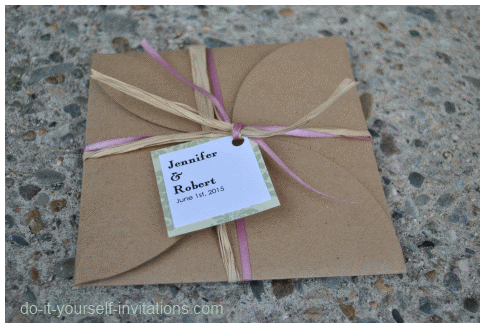 ---

See Also...
Make Your Own Pochette Invitations
Pressed Flower Wedding Invitations
Cherry Blossom Wedding Invitations Templates
---

Do It Yourself Invitations Homepage > Make Your Own Wedding Invitations > Cherry Blossom Wedding Invitations