DIY Gerbera Daisy Wedding Invitations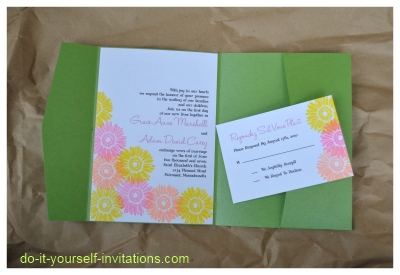 I made these gerbera daisy wedding invitations using a simple daisy rubber stamp image and some well coordinated, colorful rubber stamping ink. I paired the stamped invites with my own DIY pocketfold invite I created using green cardstock. The end result? A gorgeous and affordable Spring or summertime wedding invitation, that was relatively easy to make!



Materials used to make these Gerbera Daisy Wedding Invitations:

white cardstock

daisy rubber stamp

stamping ink

(OPTIONAL)

11"x17" cardstock for diy pocketfold

glue runner or double sided tape

satin ribbon



I started by printing the wording for these invitations onto some plain white cardstock. I like to use 110 lb. standard white 8 1/2" by 11" paper. You can print the wording onto your invites using whichever kind of software you are comfortable with. I prefer to set up the wording so that it will print twice, side by side onto a regular sheet of paper. This way all you have to do is cut the paper in half and trim it down to size to create 2 wedding invitations per single sheet of cardstock.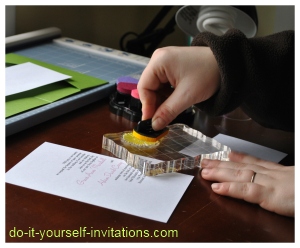 You can use Microsoft Word or a something similar to set up the document to print this way. I have also included some free wedding invitation templates on the site to help out with printing your invites and other stationery pieces, multiple per page. There are even cutting guidelines to help you cut them to size.
I chose to cut the paper down to a 5" by 7" size. This is a popular choice for wedding invitations. It's a good size in finding matching envelopes, and for mailing purposes. After cutting the paper down to size I then got out my daisy clear stamp and acrylic block for mounting the stamp onto. If you're new to clear stamps, here's the low down. Clear stamps are a lot like wood mounted rubber stamps, accept you can see through them and they are un-mounted. You can mount them yourself onto acrylic clear blocks which allows you to arrange them however you may like. You can take them off of the block when you are done, and use them over and over again. Another added benefit is the fact that they are clear, so you can actually see where you are stamping the image. Makes for far less stamping "oopsies". :-)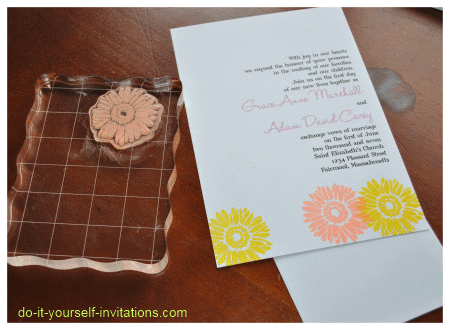 The stamp I chose came form a set by Inkadinkado, called "Garden Delight (#97623). This set is great for any garden theme wedding and has several stamps that could be used along with the daisy image to create a whole matching branded garden wedding stationery set. I used a multicolored petal point stamp set for my choice of inks. It was a Colorbox set ("Enchantment") which made things easy as far as picking inks that were perfectly coordinated.
To create the gerbera daisy "pattern" you see on the front of the invitations, I simply stamped the same image over and over using different colored inks. The trick is to start with the lightest color, and stamp it in a couple places somewhat far from each other. Clean the stamp and start again with the next darkest color, working form lightest to darkest. Make sure and keep some baby wipes or wet paper towels handy for cleaning the stamp in between colors. I also recommend doing a couple of test runs on scrap paper until you have a layout in mind that looks good to you.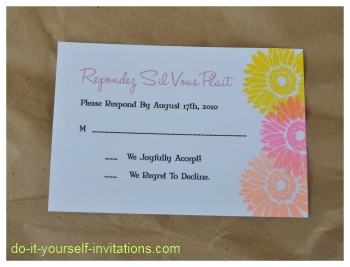 I also made a response card to match the invitations using the same exact process. You could easily use these gerbera daisy wedding invitations "as is" on plain white cardstock, and just pop them in an envelope, but I like to take it a step further. There's several ways you can dress these up. You could tie them together with a ribbon or paper belly-band. You could back them with card stock or decorative paper. But I chose to place them in a pocket folder. You can buy plain empty pocket folders online, but I chose to make this pocketfold by hand. Well almost by hand, I cut them using my Cricut die cutting machine, but you can also cut them by hand with a paper cutter or ruler and craft knife.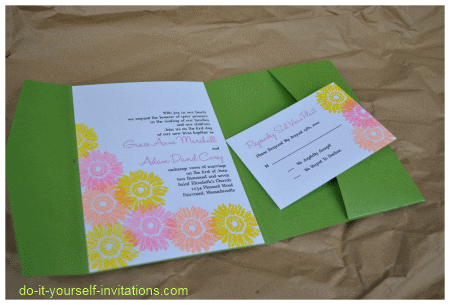 More tips and ideas to make your own gerbera daisy wedding invitations...
* One of the best things about using gerbera daisies incorporated into your wedding theme, is that they come in so many colors! You can pretty much get away with using this theme with ANY wedding color palette! Play with colors by switching up the inks that you use, or the color of the text and wording. Use a different colored backing paper, or pocket invitation.
* Want to make it the most affordable as can be? This could be the ultimate in cheap yet fabulouse wedding invitations. Use the invite "as-is", stamped white cardstock. Hold your insert pieces together with some ribbon (you can get thin colored ribbon for around a $1 at craft stores) or even use raffia. You can add a little extra class by tying on a small wedding monogram by using my printable DIY wedding favor tags template.
* Give your invite a bit of richness and texture by using some embossing ink or powder. With a heat embossing tool you can give the flower stamps a raised glossy texture.
Other related pages
Making invitations using rubber stamps
---

Do It Yourself Invitations Homepage > Make Your Own Wedding Invitations > Gerbera Daisy Wedding Invitations