DIY Heart Wedding Invitations
Make Your Own Invites For A Valentines Or Love Theme Wedding
Looking for some ideas for cute heart wedding invitations? What better a theme for a wedding than anything celebrating love? And what a sweet color palette of rich reds and pale and pretty shades of pink?

I wanted to create some fresh new heart and love themed wedding invites to cure your Valentine's day fix! It's right around the corner you know? Here are my ideas for both an inspired and an easy invite to create for your upcoming hearts, love, and Valentine wedding.

One theme that really inspires me is the "heart carved into a tree" theme that I have been seeing a lot lately. It's simple and sweet and brings you back to a time of puppy love and first kisses.

But I wanted to do it a little bit differently!




Carved Heart & Tree Invitations


I started with some wood grain inspired cardstock from LCI paper called Wood Grain Bubinga Cardstock. I cut the cardstock down to 5 by 7 inch cards.

Next I used one of the free invitation templates offered here on the site to type up the wording for the invite. I played around and changed the fonts to go with the invite. I chose a rich brown for the wording to go with the wood grain, and a deep sweet pink for the names on the invitation to offset with the heart I would later attach to teh invitation.

I printed the template and trimmed the wording from the paper. The guidelines included on the template are to trim the paper to 5 by 7, but obviously that was not an option. I kept an eye on the guidelines to make sure I was cutting straight, but I cut inside of them instead to cut them down to 4.45 width and 3.75 height.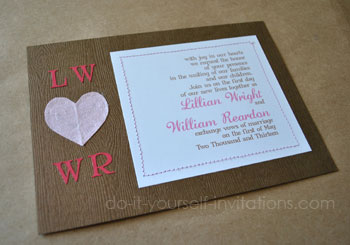 I added a very small dab of adhesive to back center of the wording piece using a glue runner, and centered the piece to the right side of the wood grain paper backing.
Next I took the invite over to my sewing machine and stitched the piece to the wood grain paper using some pink thread.
You absolutely do not have to stitch this invite if that is a little overboard for you. An alternative approach? A nice touch would be to hand stamp around the border with a nice decorative stamp, or even punch a decoration into the border with a border punch.
I cut out some paper hearts by hand using some plain old scissors and a nice piece of pink handmade silk paper. You could also use a large heart punch to create the hearts, or switch the paper out for felt or fabric.
I used my personal die cutting machine to cut some letters out for the initials on the "tree" for these heart wedding invitations. You could also use letter punches or even letter stickers.
I used a simple quick dry glue for attaching the heart and letters/initials. Just a quick dab on the backs and stuck them in place by hand. Done! Super cute "carved heart in tree" themed heart wedding invitations that are relatively easy to make.
Hand Stamp & Paper Punch Heart Wedding Invitations
I love a seriously simple homemade wedding invitation that is inexpensive and easy to make, but with a big visual impact.

I gathered a few of my supplies and a little inspiration and here is what I came up with!


Materials and Supply list:
8.5" by 11" card stock

pink and/or red paper

flourish style rubber stamp

ink pad

small heart shaped paper punch

(optional) pink or red marker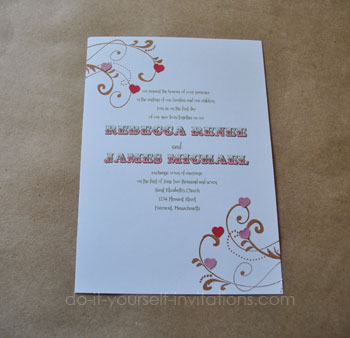 Once again I started out using one of our freebie customizable invitation templates. I simply typed in the wording and played around with font colors and styles. The accent fonts I used here is called Rosewood. I wanted something sort of vintage and ultra "stand-out".

I printed the template onto some heavy white cardstock and trimmed them to 5 by 7 inch invitations using the included guidelines for cutting.

Next I took a pretty pink hued marker (it was actually a sharpie to be exact) and colored in parts of the font for an added decorative touch. This will only work with certain fonts.

I then got out my flourish rubber stamp (one of my favorites and a must if you make a lot of DIY paper and stationery stuff) and stamped on a decoration in two corners of the invitations.

I used a clear stamp for this project so I could see exactly where the image would sho up on the paper and not accidentally overlap any text.
To top it all off I punched out a bunch of colored paper hearts and used a quick dry glue to stick them onto the invitations arranged within the flourish design. Viola! Beautiful and crafty homemade heart wedding invitations with a quirky offbeat style.
More Ideas...
Another really unique technique for keeping your invites in this same theme? Create your own block printing stamps to create hand stamped heart wedding invitations.


Do It Yourself Invitations Homepage > Make Your Own Wedding Invitations > Heart Wedding Invitations