Bridal Shower Invitation Ideas
Make Your Own Unique Homemade Shower Invitations
Looking for some unique bridal shower invitation ideas for the upcoming celebration? A great way to cut some budgeting corners while inviting your guests with something special and one-of-a-kind is to make the invite yourself!

How else can you get an invite that is completely customized to the soon-to-be wed couple? By creating handmade invitations you can make an invite that embodies all that is unique about the happy couple by using photo's and unique themes.

I want to share with you all of my bridal shower invitation ideas, money saving tips, and unique ways to unleash your creativity. Hopefully some of my ideas will inspire you to create something of your own! Not only will I be adding new ideas and tutorials on an ongoing basis, but I will also be offering up some free printable and invitation templates!



Bridal Shower Invitations Ideas Tutorials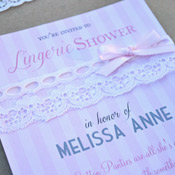 Create DIY handmade lingerie bridal shower invitations with our printable templates. Make your own lingerie shop shower invites with a sexy lace accent. So easy to make!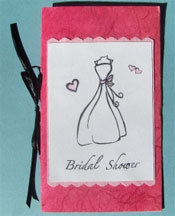 Make a handmade bridal shower invitation ideas using rubber stamps. The most inexpensive, and my go-to craft for making invitations, is to use rubber stamps!
You can create entire collections of matching stationery, decorations, and favors, all with the use of one little stamp or a collection of stamps. Not to mention the fantastic selection of stamps available these days!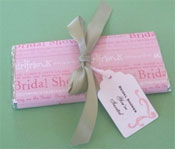 Looking for a unique invitation? Would you like to try your hand at making bridal shower invitation candy bars?
Don't worry it is really easy! Just buy a box of some of your favorite chocolate bars and simple make your own labels! Print your invitation details on the inside. A unique and whimsical party invite!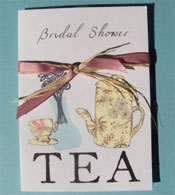 Having a bridal shower tea party? Here's an idea for some cute bridal shower tea invitations.
You can make these by printing our free template and adding you own tea theme stickers, paper punches, or die cut shapes. Enjoy!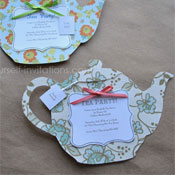 Even more great Tea Party Bridal Shower Ideas! These adorable tea pot invitations will make an adorable addition to any tea party shower.
You can make these by printing our free template and adding you own tea theme stickers, paper punches, or die cut shapes. Enjoy!
Printables and Templates


We've got free printable bridal shower invitation templates that are customizable and easy to personalize. Just personalize them with your own wording and verses, and customize them by changing the fonts, font sizes, color, and alignment. You can print them at home for a super convenient and affordable shower invitation solution!
We also have some free printable quarter fold bridal shower invitation templates to make super simple and quick invites.