DIY Printable Invitation Templates
Print Your Own Invitations and Stationery With Our Customizable Templates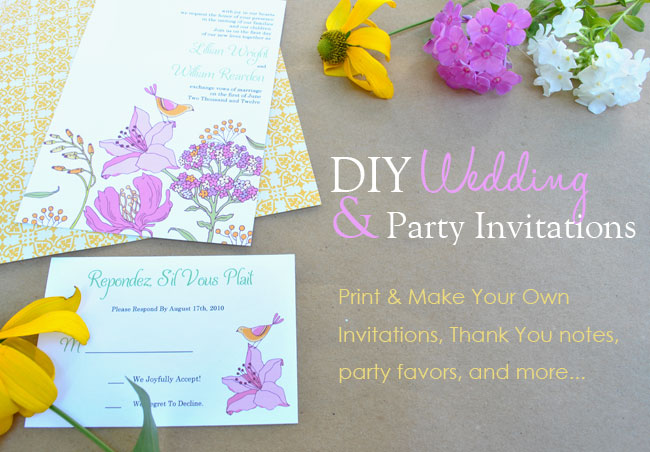 Ever wonder how you could make your own invitations and save a ton of money while you're at it? Use our DIY invitation templates to print and create your own homemade invitations. It's easy, fast, and affordable.
Our templates are available for instant download! Simply choose a template, download it on the fly, change the text to match your event, and print it! You can change the wording, fonts, font size and colors! Trim the invitations and stationery pieces using our handy dandy cutting guidelines and viola! Homemade invitations, party supplies, and more all from the comfort of your home!

Our PDF templates are designed to print onto standard sized 8 1/2" by 11" paper. Print your template onto some heavy card stock, and trim to size using our cutting guides. Our Printable Invitation Templates are an easy DIY solution to your party planning needs.
All invitation are set up to print two or more invites per page. You can choose to simply print and trim,, and use your invites "as is", or you can go the extra mile by adding your own decorative and crafty touches.
Trim the paper and attach to a fancy card stock backing. Add ribbon, charms, decorative paper and glitter glue. Get creative and have fun with it!
All of our templates are ready for immediate download and come in the form of an electronic PDF file. You will need a PDF reader to view and change the invitation templates. I recommend downloading the latest version of Adobe Reader.