How To Make Easy Homemade Invitations
Using Blank Cards, Pochettes, and Pocketfold Invites
Many of the ideas and tutorials for homemade invitations on this website can be re-created using blank cards, blank pochettes, or pocketfold invites as the base of the invitation. By using blank cards you are just plain making the process so much easier and faster too! But it's not your only option so I want to outline the pro's and cons of using blank cards versus creating your invites from scratch.









Using Blank Cards vs. DIYing It With Cardstock
(Making Homemade Invitations from Scratch)
Pro - Using blank cards to make your own invitations is quicker and easier. When using a blank card to make your own invitations you skip a few super tedious steps leaving more time for the fun stuff. Creativity!

Con - Depending on the cards you choose to purchase it could run you a little more money than making the invitations from scratch. BUT if money is not such an object for you then using blank cards is surely the way to go.

Pro - Blank cards are (a lot of the time) made from some nice sturdy papers and are already scored for easy folding.

Con - You may not find the selection of color or paper that you desire in a blank card. By making them form scratch you get exactly what you want!

About Cardstock - using cardstock to make your own invitations from scratch is a definite good choice if you are looking to save money, or you want the ultimate freedom in customization. Make sure and shop around and choose wisely to ensure you are choosing a good cardstock. You don't want it to be too flimsy depending on the kind of card you are making. If it is too heavy you may run into problems folding it. I recommend sticking with a good 110 lb. cardstock for most projects. But depending on your DIY invites you may want something lighter or heavier.
Another good thing about using cardstock is that most any copy shop will copy onto it for you so that if you still want to make your own invitations quickly and easily you can take your paper on over to any copy shop and have your invites copied, cut and folded all for you. Try using our free printable invitation templates or wedding stationery and invitation templates. The templates are in the form of an interactive PDF file. All you need to use our free templates is a current version of Adobe Reader.




Creating Cards and Pockets By Hand
I truly enjoy creating my homemade invitations from scratch starting with a plain piece of pretty cardstock. But if you are in a time crunch or just not so confident when it comes to the craftiness department, then this can quickly become a daunting task.

However, if a bit of work or a challenge is right up your alley, I do have some tips and templates to get you started and help you along the way!

Making folded cards - creating a basic folded card is pretty simple. I do recommend that you use some tools and get it done in a almost professional manner, rather than simply folding a piece of cardstock in half. Here's why - folding a piece of cardstock in half is a lot trickier than it might seem. The end result will almost surely be a crookedly folded cards with a ton of wrinkle and pucker marks at the fold.

We want your homemade invitations to look like you actually bought them!

What to do? Use a bone folder! This is such an inexpensive yet genius little tool!! I gotta say I flipping love mine and use it constantly now that I own one! A bone folder is an all-in-one scoring and paper folding tool. Hold a ruler across the paper where you want to score it, and simply drag the end tip of the bone folder along the paper. Fold along the crease and then smooth over the fold again with the edge of your bone folder. What you will create is a perfectly scored and folded piece of paper.

So how do you create the perfect folded card to make your homemade invitations? Start by choosing the perfect paper of your dreams. Find something beautiful and unique!

Next, figure out what size you would like the folded card by calculating the height of the card and also twice the width (since you will be folding it in half after all).

Either cut your paper by hand, or have it cut by a professional (try copy or print shop - so cheap and easy). Measure where the halfway point is in the middle of the card and make a small mark with a pencil. To make sure it is straight either use a cutting mat with a grid, or mark it twice (at the top and bottom).

Using the marks you made hold the ruler at the exact middle of the card and use your bone folder to make a score mark vertically down the center. Now fold the card and smooth over the fold with the edge of the tool.




To Print Onto Blank Cards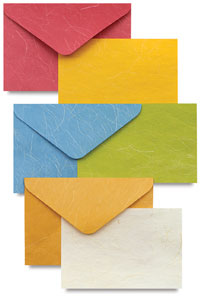 Here's how to make homemade invitations by printing onto the blank cards. Printing onto blank cards can be relatively easy. Measure the length and width of the card when it is full open. Use any word processing or desktop publishing program to set up the text. Once the program is open choose File > document or page setup. When the new window opens enter the length and width of the card. Make the margins about .5 inches all the way around except for the side where it will be folded shut. This margin (usually the left) will be half the length of the card plus half an inch. Now enter your text and center it.
For more info and a more complete explanation see How to Print onto Blank Wedding Invitations


In some instances, especially when using a pocketfold or petal fold, it is best to print onto a flat sized card and then attach it to the inside of the card.

If you are looking to browse through a good assortment of high quality paper blank cards then I would recommend visiting a couple or my favorite places to shop. Try Dick Blick Art Materials or another hot pick is Paper Source Stationery
. I also really like CardsandPockets.com which has a beautiful supply of DIY invitation supplies from pocketfolds and cards to an assortment of papers, crafts supplies, and envelope liners.
Petal Fold, Pochette, and Pocket Fold Invites
Pocket folds and petal folds (pochettes) are certainly gaining popularity. They are a very easy and elegant way to create a DIY invitation. Most will find that using blank pockets is the best and easiest way to go with making handmade invitations. But they can also run you a pretty penny! I like to make my own to save a few dollars. But even more so, I like to make my own so I can customize them and personalize them. Sometimes I use a sewing machine to hold the pockets together. Most of the time I use paper that you may never ever find in a pocket fold or pochette! A pochette made form decorative patterned paper is just fabulous no matter what you do with it! And sometimes, I even create my DIY pockets using cloth and felt. You can really get creative and try to think outside of the box when you are making them by hand.

If you are going to make your own pocket invites using pre-made pockets, I recommend either checking our CardsandPockets.com, or my personal favorite, LCI Paper Co. Both have fantastic selections in blank pocketfolds, petal folds, gatefolds and more.

Want to make your own pocket Invites? I have templates that are both printable, as well as SVG files which you can use with a Cricut die cutting machine as long as you also have Sure Cuts A Lot installed on your computer. Make sure and check back often as I will periodically be adding more templates for unique DIY pocket invites over time.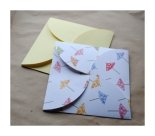 Make Your Own Pochette Invitations - I created a printable template as well as an SVG template to use on your Cricut die cutting machine to create and make your very own homemade pochette invitations! Make pochettes in every color, and decorative paper you can get your hands on!


DIY Wedding: Homemade Invitations with pockets - pocket fold invites are a super popular choice for modern elegant wedding stationery suites. But they can also run you a pretty penny. Here's how you can DIY the pocketfold invitation and make your own wedding invitations that are unique and fabulous.

Do It Yourself Invitations Homepage > Make Your Own Wedding Invitations > Make Homemade Invitations