Make Your Own Party Invitations
Ideas, Tutorials, Free Printables, And More
Make your own party invitations and give all of your parties a unique sense of style and flair! There are many holidays, family, and social events that will call for us to throw a party. Where there is a party to be thrown, there is the need for invitations! Why not get creative and make your own?!

Halloween, Christmas, or Valentine's Day! Cookouts, slumber parties, and graduation parties! If you need some inspiration we've got tons of ideas and an ever expanding gallery of homemade invitations, tips, ideas, and tutorials! You can even show off your own DIY party invitations by sharing your homemade invitation creations in our Invitation and Cardmaking Show and Tell page.
Take off your coat and say a while. Browse around at some of the different party invite ideas. There is always room to modify any of these ideas and make the invitations your own. So get ready to get creative!

And Don't forget! Making your own invitations is a great opportunity to get your kids involved! They will love to help and will have fun creating these invitations too! Especially if it is their party!

Below our some of our helpful ideas and tutorials to make one of a kind invitations for your upcoming parties:



Holiday Parties!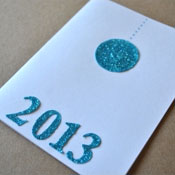 New Year's Eve Party - A super simple quick and easy homemade invitation! Get out your glitter and glue for some crafty fun, or make it quick with some sparkly stickers.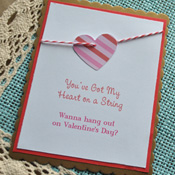 Valentine's Day Invitations and Cards - Creative ideas for making cute and crafty Valentines invites and cards. From classic traditional hearts and lace to modern and quirky. And there's templates too!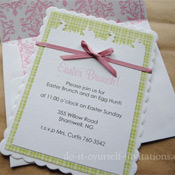 Easter Invites/Easter Egg Hunt - So cute, bunnies frolicking at the top of this invite! Create this homemade party invitation using an adorable paper punch and some decorative paper.



Fourth of July Invitations - Crafty and easy to make with a free printable template. Combine glitter and glue and hand cut or paper punched stars for this festive holiday invite.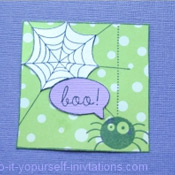 Halloween "Boo!" invitations - This crafty creation was made using rubber stamps and paper pieceing. The end results are fabulous and they are fun to make!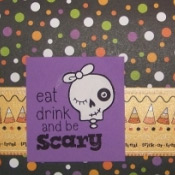 Easy Halloween invitations - Super simple to make Halloween party invitations. I used a stamp I rummaged from the $1 dollar bin to make these invites! So, yes, they can be affordable too.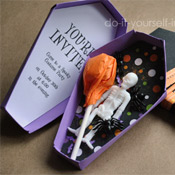 Unique Coffin Halloween Invitation with printable template. These tiny coffin invites are so much fun to make and to receive. Fill them with goodies and candy for a spooky and fun party treat.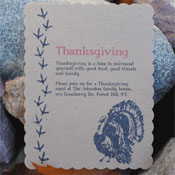 Thanksgiving postcard invitations - easy to make DIY Thanksgiving postcard invitations using pre-cut kraft paper postcards and a dollar bin rubber stamp.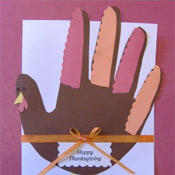 Thanksgiving Turkey Craft Invitations - a perfect kids craft for your Thanksgiving festivities. Construction paper and folded cards make up this crafty dinner party invite.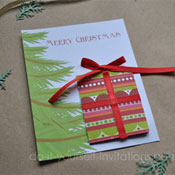 Christmas party "Gift" invitations - These cute and crafty Christmas invites are made with some decorative holiday paper and our free printable templates.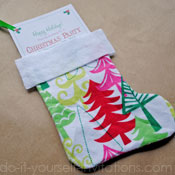 Christmas stocking invitation - Love these adorable cloth invitations that can double as a cute Christmas Gift. Re-use the mini stockings as a holiday decoration! A perfect holiday invite or greetings card!
Summer Parties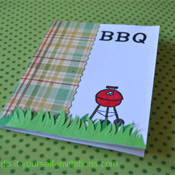 Invitations to a Barbecue - Cute invitations made pairing a well chosen scrapbooking paper with a barbecue theme stamp set.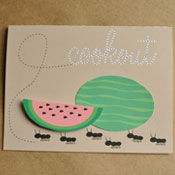 Cookout Invitations - These fun to make invitations are created with our free printable template with matching printable craft embellishments.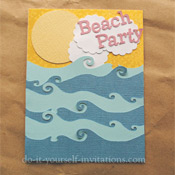 Beach Party - A fabulous beach themed invite created with a personal die cutting machine. Templates included. Don't have a die cutter? No problem! YOu can duplicate this with some scissors, stickers, and a paper punch.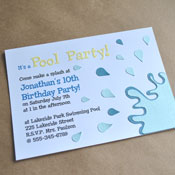 Pool Party - Simple to make water party themed invites. Use them for a pool party, or water fun party (squirt guns, water balloons, slip and slide, etc.). Use our free template!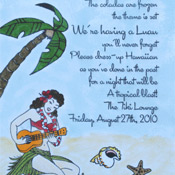 Luau Invitations created with a cool rubber stamp, and some unique coloring techniques.


Everything Else Parties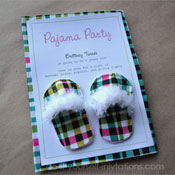 Pajama Party - adorable DIY slipper invitations made with some fabric and a printable template. A show stopper!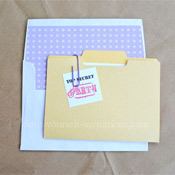 Surprise party - a top secret file folder invitation with hand stamped tags. Be a DIY party private "eye".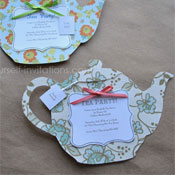 Tea Party Invitations- a reader's favorite here at DIYI.com! These tea party invitations come with a template to help with your crafty creations.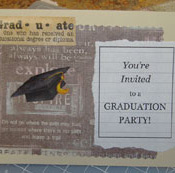 Graduation Party - a simple to make DIY invite with torn notebook paper, decorative scrapbook paper and some well chosen stickers.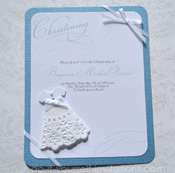 Christening Invitations - Create these cute handmade christening invitations using paper doilies and our printable template. Adorable!
Templates and Printables