Make Christmas Party invitations
These Christmas party invitations are easy to make and feature a unique twist! The paper Christmas gift on the front of the invite actually opens up to reveal your party details!

I have included a couple of different templates to help you along in creating super fast and easy invites. But these can easily be put together completely form scratch using a simple word processor, some graphics of your own or just a little crafty ingenuity.

I have duplicated this invite by hand cutting construction paper to the shape of a Christmas tree. I've also adorned the front using a pine branch paper punch and paper in several shades of green. Get creative and you can really take this invitation idea in so many different directions.




Christmas party invitations supplies list:
8 1/2" by 11" cardstock

decorative paper

ribbon

glue/adhesive of your choice
(optional supplies)

construction paper

art pens

glitter, rhinestones, metallic paper


You can make the invitations two different ways with our easy to use printable Christmas invitation template.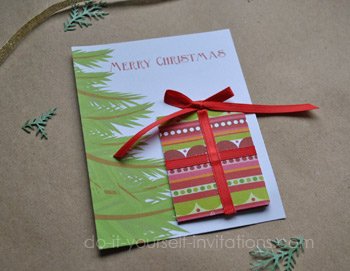 Easy To Make Christmas Party Invitations
The first page of the printable template is complete with Christmas tree graphics and colored text. All you have to do is choose some holiday inspired decorative paper to complete this homemade party invite!

To create these invites start by printing page one of the template onto some heavy white cardstock. The template is designed so that you can also create folded cards from the page. To create a flat card style invite you will need to print the file onto regular paper, and then print again onto the back with the page facing the opposite direction.

Cut the paper into quarters to create 4 flat cards per single sheet of paper.

Choose a holiday decorative paper to use for the "gift" on the front of the invite. Trim the paper down to smaller sheets. I cut mine to 4.25" by 5.5".

You will need to place the invitation wording and details onto this sheet of paper. There are several ways to go about this part of the process.
1. hand write the details onto the trimmed paper.

2. print the details straight onto the trimmed paper.

3. use our printable invitation templates to print onto the back of 8.5 by 11" scrapbooking/decorative paper.

Fold the trimmed paper into quarters. Cut some ribbon to glue across the front of the squared paper. Wrap another ribbon around the back of the paper facing vertically.
Glue the folded paper to the front of the Christmas party invitations. Do make sure that when you open the paper it will be facing in the right direction. Tie the ribbon so it holds the paper shut and ends with a ribbon on top of the "gift".
Create Homemade Crafty Christmas Party Invitations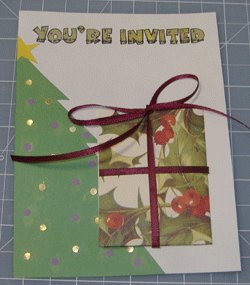 The second page of the template is created with plain simple "You're Invited" text across the top of each quarter of the page. This template is intended for a very hands on, crafty template.

To use this template you will add your own hand stamped or cut Christmastime tree or pine needle decorations. There really is so many different ways to decorate the background of the invitation. these also make a perfect kids Christmas crafts activity!

create "Christmas tree" invitations with hand cut construction paper

Use a tree branch/pine needle paper punch paired with green paper/cardstock

decorate with a rubber stamp with a pine needle or Christmas tree image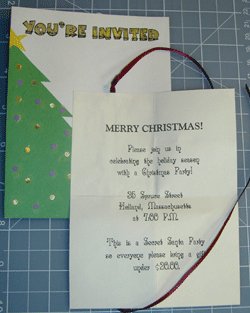 Using the same manner as I've outlined above, you will create a paper "gift" to attach to the front of the invite holding your party wording and details.

You can also color in the text across the front of the page for some added color and decoration. I chose a metallic gold pen to color the wording.





Optional finishing touches

- add your own Christmas tree ornaments to complete these Christmas Party Invitations! Use paper punches and glittery paper or felt to create decorative accents to glue to the tree on the front of the invitation.




Do It Yourself Invitations Homepage > DIY Party Invitations > Christmas Party Invitations