DIY Fourth Of July Invitations
Make Your Own Glittery Homemade Fourth Of July Invitations
With Our Free Printable Template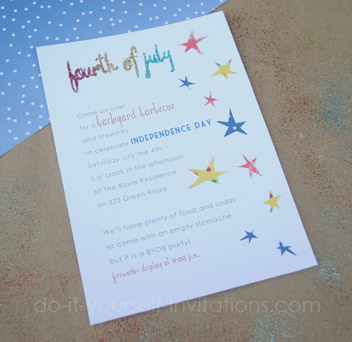 The first thing that comes to mind when I think of the 4th of July is Fireworks! It's been a tradition of my family's for years to go and watch the local fireworks display every year on Fourth of July weekend.
What better way to portray fireworks on an invitation than with glitter and stars?
I created a free printable invitation template to help make creating this invitation a breeze...



Materials and Supplies list:

white cardstock

paper cutter or trimmer

decorative paper

glue pen

glitter

glue dots or adhesive

How To Create These Crafty Fourth Of July Invitations
1. Print the Invitation Template.
Start by downloading or saving our printable invitation template to your desktop.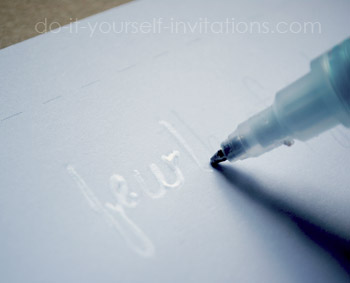 The template is interactive which means you can type your invitation wording right into the document and format the fonts and fonts colors/sizes all on the template. To use the template, simply open it using Adobe Reader (if you do not have this on your computer it is available for free on the internet). Place the cursor in the middle of the invitation and start typing.
To change fonts and colors and whatnot, highlight the text and press CONTROL + E to bring up a tool palette.
Format the wording to your liking and print it onto some heavy weight cardstock of your choice. With a paper trimmer or cutter, use the cutting guidelines to trim the paper to two 5 by 7 invitations.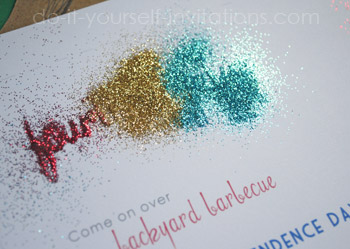 2. Add some glitter writing! Using our template you can very neatly add the glitter writing shown in the pictures here on the page. The font is printed very, very faintly on the page so all you have to do is trace is with a glue pen.
After tracing quickly sprinkle on some glitter. I sprinkled three different colors across the page for a bit of a rainbow effect. It came out very pretty if I do say so myself. :-)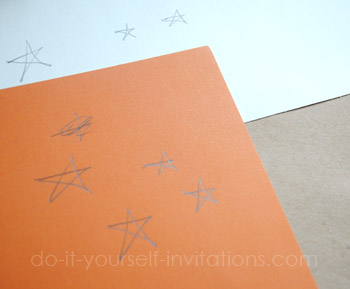 3. Create some crafty stars. I made the stars on the invite by cutting the stars out by hand with some craft scissors. But you could easily use a paper punch or die cutter, or even some stickers.
I took my decorative papers and laid them face down on my work surface. I used a pencil to draw some quick stars onto the back of the paper, and then cut them out using the drawings as a guideline. Flip them over and viola!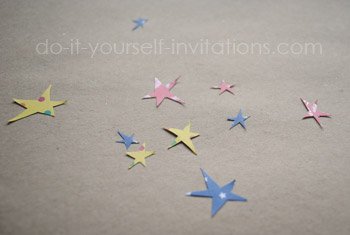 4. Add Stars to the Fourth Of July Invitations!
Now pretty much all you have to do is glue on your stars!
I rearranged them on the page without the glue, until I liked the way it looked. I then one by one glued the stars in place using a glue dot runner.
I only used a very small bit of glue for each star only glueing in the middle to give just a hint of 3 dimensional effect to the stars.