Using Decorative Paper Backgrounds
for Invitations and Cardmaking
Using paper crafts and scrapbook paper backgrounds for invitations can make them really stand out! These papers come in a large variety of patterns and textures that can compliment just about any theme or color scheme!



OK, I'll admit, I am completely addicted and obsessed with decorative paper. I use it in so many ways, not only for backgrounds for invitations making. Of course, the obvious, I use it for cardmaking of all sorts. I am also known to use decorative papers for paper piecing projects (the art of making up a picture or scene using accordingly shaped and cut pieces of paper), decoupage projects on all sorts of objects (decoupage is a crafting plain objects into works of art by layering paper or fabric with glue, in many, many layers. Such as wooden or tin boxes, picture frames, even furniture), paper crafts of all sorts, and scrapbooking! At any given moment I have hundreds of dollars worth of decorative paper stashed all around my craft room.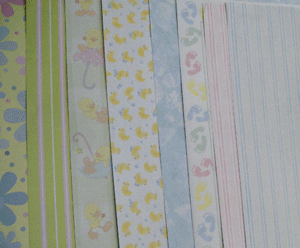 It just so happens that these decorative papers meant to be sold for paper crafts and scrapbooks is just perfect to use as backgrounds for invitations. Almost every single card or invitation I make has some kind of decorative paper involved, and most usually as a background paper, layered just on top of my card stock. "Why are these papers so great?", you may ask. Because they are available in just about every imaginable theme, color, or pattern. There are papers with baby shower themes, wedding themes, birthday themes, and all kinds of color schemes and patterns! You can buy them by the sheet or in bulk. You can buy them in different sizes as well; generally 12" x 12" or 8 1/2" by 11".

Now that you know about the paper, "Where do you get it?", you may ask. I buy my paper online most of the time. I like to buy it by the sheet, so I can sample many papers and experiment with a few card designs. Then I go back and buy a bulk amount for whatever project I happen to be doing. My favorite store for buying my paper online is Scrapbook.com They have a HUGE variety and choice of papers and everything is very easy to find and search out. PLUS, their selections are available by the sheet AND by bulk. LOVE IT!!

Some great uses for this sort of paper? All sorts! I like to get creative with it. Sure, you can just attach it to the front of a card and add some ribbon and BAM you've got a pretty cute invitation. But you can also go to town with paper punches, paper edgers, and die cut machines.

Get creative! Think outside of the box and experiment! Get your hands on some decorative paper backgrounds for invitations, and I know you'll come up with the perfect invitation for your upcoming event!
For more information about some of the many types of paper suitable for making invitations check out our primer on invitation paper.




Browse Samples Of Decorative Pattern Paper


DIYI Homepage > Make Your Own Invitations: Cardmaking Tools and Supplies > Scrapbook and Decorative Papers