Top Cardmaking Tools Basics
Choosing a Paper Cutter/Trimmer, Tools For Scoring And Folding Paper
Choosing a good basic tools such as a paper cutter or trimmer can be an integral part of the quality of your handmade invitations and other paper crafts and cardmaking projects. This can be especially important for making your own invitations, where in many cases, you will be making large quantities of cards or invitations. You'll be cutting, scoring, and folding a whole lot of paper with that one little tool, so you will want to make sure it is a good, quality product. It should suit your needs in ease of use, as well as being durable enough to hold up to the weight and thickness of the paper you choose.

But your options for creating cards do not end with just a simple paper cutter. There are many other paper cutting tools and well as folding and scoring tools to consider adding to your arsenal of paper crafting tools.



Personal Paper Trimmers
Guillotine paper cutter - This type of paper cutter is best for cutting multiple sheets or if you have a heavier weight paper to cut. Guillotine paper cutters are the old school trimming tools with the lever to one side in which you lift into the air, slide the paper over the edge of where the blade touches, and then bring the lever down to cut the paper just like a true guillotine. Although these paper cutters are old school, they are generally good quality, durable, and will get the job done. The decision merely lies up to whether you have it in you to cut a large amount of paper with it over and over again.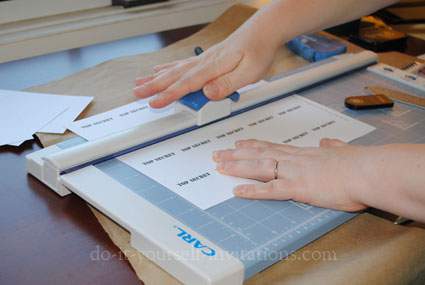 Sliding Blade Paper Trimmers - I prefer to use this type of paper trimmer, but mainly because of ease of use. The blade on this type of paper cutter is on a track so all you have to do to cut your papers is slide the blade back and forth. Many even come with scoring attachments for a 2 in 1 paper crafting tool. But beware. There are many, many of these type of cutters on the market. Some are made very cheaply. Even those that are cheap can still be quite useful, but do not generally fare well with cutting a lot of super heavy weight papers. For general and lighter weight use they are perfect.
However, if you are careful you can find a great sliding blade trimmer that will be made to withstand not only heavy paper, but multiple sheets, and still have all the bells and whistles such as scoring attachments and folding rulers and such. My personal cutter even has removable blades so I can cut decorative edges just by switching blades. Genius!
Other Paper Cutting and Folding Tools
Precision craft knife and cutting mat - These type of craft knives are basically a small pen-like handle that you can insert a razor into. I find these knives incredibly useful and always keep a full set on hand. I have used them along with a metal ruler to cut smaller pieces of paper for layering techniques, as well as hand cutting shapes. If you are going to use one of these handy little knives you will need to purchase a cutting mat to go along with it. Those knives are sharp, and anything you cut on top of is bound to have some lines and notches left behind without a mat.

Rotary Cutters - A rotary cutting knife is best used for free cutting on a template. I recommend them for cutting shapes or rounded edges, such as the petal fold invitation template for an example here on this site.

Paper scoring tools - The best is when you can find a good paper cutter that just happens to have a scoring tool, but when that is not a possibility, you may need to purchase some scoring tools and supplies. Scoring is basically just making a smooth indented line in the paper exactly where you intend to fold it. The indented line forces the paper to fold perfectly and neatly in just the right spot. Without it you will be looking at a wrinkled mess.
A Good scoring tool will include some kind of pen like tool with a pointing end to make an indent into the paper. Also included should be some sort of scoring mat. This will have several indentations in the mat that pretty much look like long lines going up and down the mat. Some may even have wavy or decorative edges. For basic paper folding all you really need is a nice straight line.


Bone Folder - I love the bone folder! It is relatively inexpensive and perfect for most paper cutting, and even great for heavy cardstock. The bone folder seems to be a mystery to many people and for whatever reason there is much speculation on the different ways to use it. It is quite simple really. You simply figure out where you would like to place the fold on your paper, either use a cutting mat (for it's grid complete with ruler guides) or simply mark the paper where it needs to be folded. Then line a ruler up against where you would like to place the fold and simply run the bone folder down the page using the pointy shark tooth like tip at the end.



If I can't make it to the local craft store, I really like to shop online for tools and supplies at Amazon.com. They have a really good selection of paper trimmers and cutters


DIYI Homepage > Make Your Own Invitations: Cardmaking Tools and Supplies > Paper Cutters