Make Your Own Invitations:
Using Paper Punches Creatively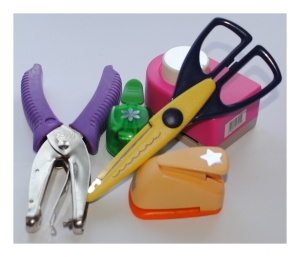 One really easy and fantastic way to make your own invitations is to use paper punches. There are many ways to utilize a paper punch when practicing paper crafts or making handmade invitations and cards. Browse through decorative paper punches and edgers


Punching holes! of course! You can buy paper punches in many, many different shapes and sizes.If you punch decorative shapes into the card stock for your invitations the inside of the card peeks through these holes! Bring your invitation to the next level by attaching a different colored paper to the inside of the card for a splash of style! You can even attach a picture to the inside and have a special someone smiling out through the paper punch shapes!

Using paper punch pieces. When you punch holes in different paper you end up with little pieces of punched out paper in the shape of your decorative paper punch. You can use these as decorations for your cards when you make your own invitations.When you attach them to the front of the card they will stand out.

Using negative space. You can even use the negative space when punching holes. For example, if you are punching decorative paper shapes out of a different paper than your invitation, you are left with a hole in this same shape. Well what if you cut out that hole by cutting a circle or square around this shape.That negative space can also be used as a decoration.

Create embellishments. Combine different paper punch shapes to create a whole new shape or even create paper embellishments.
For example, I did exactly this using heart shaped paper punches. I arranged the little heart shaped pieces to shape a flower. I then placed a very small circular paper punch shape for the inside of the flower. Use a medium sized heart shaped paper punch and a small sized heart shaped paper punch together by layering both shapes to create violet or pansy style flowers.


Adding Decorative Edges. With paper edging scissors and border punches you can create decorative accents to your papers. The effect is fabulous when layering papers!


Be creative! Who knows what kind of embellishments you can come up with!
Shop For Paper Punches
---


go from Make Your Own Invitations with Paper Punches
back to Do It Yourself Invitations Homepage