Glue runner and/or adhesive


These pink martini glass invitations were made for a 21st birthday cocktail party for a woman who loves pink and just all around girly themes. To begin with, the hot pink 21st birthday invitations template was used to create this invite. The font used with the template in these examples was downloaded from Font Diner which has some really cool and many retro fonts to choose from at pretty reasonable prices.

Anyhow, I started by printing the template onto cardstock and trimming them to size. I hunted down some really cool printed vellum from The Paper Company. It has some nifty little 50's retro looking "stars" printed all over it. It just fit the graphics and fonts perfectly. The name of the paper by the way is "Galaxy Star". I also paired it all with some black cardstock. I cut both the vellum and black cardstock sized just a bit larger than the invitation itself and then layered all three papers together. The printed invitation on front, vellum underneath, and black cardstock on the bottom of it all. I held them all together using a permanent adhesive applied with a glue runner.

The last step I took was to affix some tiny teeny rhinestones. I used some quick dry adhesive and a pair of tweezers to dip each 2mm rhinestone in a thin layer of glue and then place them on the rim of each martini glass. The end result is very cute. The pictures absolutely do not do it justice!




---

Add A Lil' Bling

Just a show a couple more possibilities I played around with this template a little and produced a couple of slightly blinged out 21st birthday invitations. :-)
Both are played on printing the invitation template onto some thick white cardstock. I used the black and white template as well. The template has guides for cutting the invitation to a 5 x 7 invite. So I simply printed it and used my personal paper cutter to trim the paper to size. Then I went to work!
For the first of these 21st birthday invitations I created, I used some colored markers to add some color to the little olives within the martini glasses. I, of course, colored them a nice shade of green with little red centers. Ad I could have left it with that but I wanted to go just a tiny bit further, so I added some green rhinestones to the olives as well. I chose a nice color green that closely resembled the color that I chose to add with my markers. I then made s little dab or two of quick dry adhesive to a piece of scrap paper and used tweezers to affix the rhinestones to the olives. These were fun to make and look fabulous! I only wish the rhinestones were easier to see in my pictures!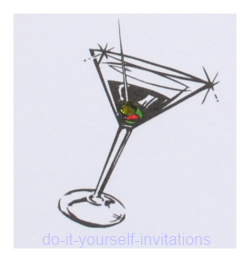 Here is a close up of the martini glass and rhinestone. Even close up it's hard to see the dark colored rhinestone. But I assure you that in person it looks 100 times more fabulous than this! Lol! You kind of have to be able to move it back and forth in the light to really get the full effect but it is marvelous and very inexpensive to make in the end.

I made one more third invitation which was very, very similar to the above rhinestones black and white invitation, with a couple of revisions.
For one, I used a marker to color in the red center of the olives, as well as some blue accents added to the glass to add some detail. But when adding green color to the olives I decided to use a shimmery accent ink instead of marker. The accent ink I used was a Smooch pearlized ink in Luscious Lime color.
After the ink had dried I went back and used a small paint brush intended for craft painting, and applied a layer of glossy accent medium. Gloss medium basically just applies and almost shiny plastic coating. It adds texture and bling all at the same time because it adds a different kind of surface to the paper, and adds some real shine. In this case, it made the martini glasses have a quality of being real glass! A very cool effect. No one will believe you did this all yourself!
---

See Also...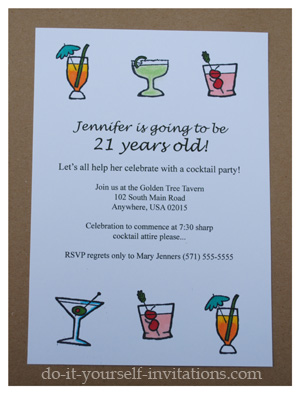 Create handmade 21st birthday invitations using a simple wood mounted rubber stamp and some paper craft markers. Super easy to make and fabulously stylish to boot!
---

Do It Yourself Invitations Homepage > Make Your Own Birthday Invitations > 21st Birthday Invitations