Free Printable Birthday Party Invitation Templates
Create your own invitations using our free printable birthday party invitation templates. We've got classic birthday themed templates to go with any party theme, as well as plain customizable arts and crafts templates. Perfect for rainy day kids crafts projects!

Our templates are an easy and affordable solution to your party needs! What could be more affordable than free? Print your templates onto some heavy cardstock, personalize it, and pop em' in an envelope! Into the mail they go!




Free Printable Birthday Party Invitation Templates
Print your own personalized invitations

The cute and classic party banner birthday invitation! This design is so classic it is perfect for just about any birthday party no matter the age.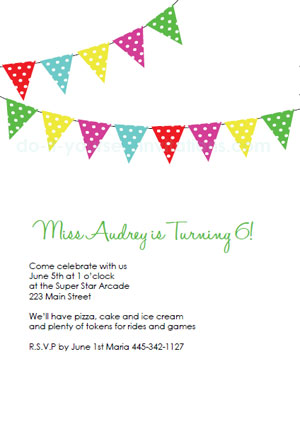 This free printable birthday party invitation is actually an interactive PDF form in which you can actually add your own text and wording. Not only that but after adding your invitation wording you can change the font, size, alignment, text color, etc... Pretty nifty! :-)
To use this template simply download the invitation and save it onto your computer. Open the PDF file (remember you will need Adobe Reader to use these files), choose the arrow/cursor tool from the tool bar across the top of the page, and simply click anywhere in the middle of the white space on the invitation and start typing away! If a text tool palette doesn't automatically pop up then all you must do is highlight the text with your cursor and then press the "control" button and the letter "E" at the same time. This will bring up the pop up palette in which you can use to make changes to the font, sizes, alignment, and more.
After you are done making changes, save it, and then print onto some heavy cardstock or a paper of your choice. Use our helpful cutting guides to trim the invitations down to 5 x 7 inches, and viola! They are ready for envelopes. I really like printing them onto a lesser weight paper, and then attaching them to some colorful cardstock. This adds a nice finished touch.
Well have fun with this! If any of you decide to do something cool and unique with this template I'd love to see pictures! Add it to our gallery by visiting the Show and Tell page! And if you enjoy using this template be sure and visit our Printable Invitations Shop!
---


More Birthday Invitation Templates
Who doesn't like a little bit of variety to choose from? I know I do!
I will be periodically updating these sections with new and different free printable invitations from time to time, as a big fat "Thank You" to my visitors. Hope you all enjoy!
Cupcake Birthday Invitations
---


Free 1/4 Fold Birthday Invitations
Great For a Fun And Easy Kids Craft Project!


This free printable birthday party invitation template is super is easy to use. Simply print it! Fold the paper into quarters to create a folded invitation measuring 4 1/4" by 5 1/2". The template is text only, including a "You're Invited to a Birthday Party" banner on the front, and places to fill in the who, what, when, where info on the inside. This birthday invitation template really is great for kids to create their own handmade invitations. Simply print onto plain ol' white, or decorative paper and then let them go to town decorating them! They can really get creative with markers and crayons, stickers, paper punches, you name it!
But This can also very well be used to make a more finished looking handmade birthday invitation as well. Print the template onto some nice heavy cardstock facing back to back (make sure the pages are completely opposite each other, back to back and upside down). Cut the paper in half and fold the remaining pieces of paper in half to create cute little folded cards. Next decorate to your liking with stickers, rub-ons, rubber stamps, etc...

You will need Adobe Reader (the latest version is recommended) installed on your computer in order to open and read this file. You can get Adobe Reader here.

---
See Also...