Make 21st Birthday Invitations
Create Fabulous Homemade Cocktail Invitations
One of the most memorable and most looked forward to birthday events is the 21st birthday party! So why not make your own fantastic 21st birthday invitations creations?! I want to show you how to make a personalized and fabulous cocktail party invitation using a simple rubber stamp.




If there was ever a good occasion to throw an adult birthday party, it's the 21st birthday! And the first theme I think of for any 21st birthday party is COCKTAILS! For many celebrating their 21st, this symbolizes the first they will be allowed alcoholic beverages legally. So many of those celebrating will most likely end up at a bar or tavern for their birthday drink. Not to mention those with their own birthday keg and cocktail parties. :-)





How To Make Your Own 21st Birthday Invitations

To make your own invitations can be pretty simple if you take it one step at a time, and the result will be a special and one of a kind creation. These 21st birthday invitations I made were super simple to make. I used a rubber stamp to embellish the invitation with little cocktail drinks, and added some color with some good quality brush markers. The result is very cute!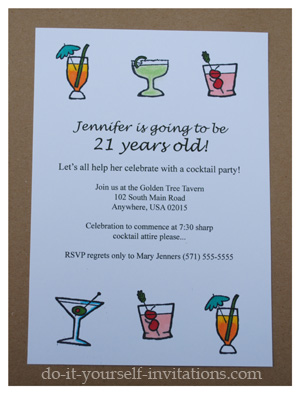 Tools and Materials used to make 21st birthday invitations:
white cardstock

cocktail rubber stamp

black ink pad

colored markers or watercolor brush pens



Getting The Words On Paper.
I started out making these invitations by printing out the wording onto some plain white cardstock. I like to place mine two invitations to a sheet so that after printing onto a 8 1/2" by 11" sheet of paper, I can simply cut the sheets down to size and create two invites per single sheet of paper. You can do this pretty simply by using whatever word processing program you have available on your computer. We also offer a free invitation template to help make it easy to create 2 to a page 5 by 7" flat invitations. There are even cutting guidelines to help you trim the paper to the correct size.
Another easy way to print your invitation wording onto paper, is to have your paper cut to the correct size ahead of time (or why not buy pre-sized flat cards?) and then print directly onto them.

Adding Cocktail Embellishments.
After printing and cutting the invitations, it is time to add some embellishment. I chose to use a wooden rubber stamp set I had on hand. It had 3 or 4 images of little cocktail drinks; perfect for these 21st birthday invitations or any cocktail party. I chose to use a plain black stamping ink to imprint the cocktails onto my paper. Make sure and use a really good ink. Most inks by Colorbox or Inkadinkado are wonderful. My absolute favorite ink is by K and Company but good luck getting your hands on it. I haven't seen it sold anywhere for quite some time. Anyway, the quality of your ink really does work wonders for how well the image imprints onto the card. A good quality ink will make your job a bit easier in the end, trust me.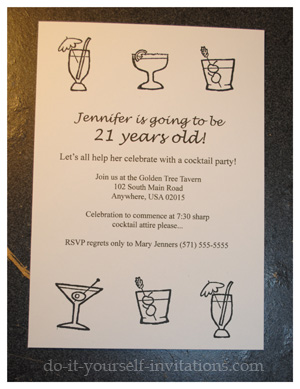 You will want to try and stay somewhat uniform and evenly spaced when stamping the images. This is a bit tricky using wood mounted stamps. If you can find some clear stamps with a cocktail or beer theme, then by all means use them. It will be so much easier! When using clear stamps you can arrange the images however you see fit onto the clear acrylic stamping block. You can then SEE exactly where you are stamping. You can see through not only the stamp, but the block as well, straight through to the paper! An added plus - you can see whether the stamp is completely inked.
To set the images evenly spaced when using a wood mounted stamp, work from the outsides, moving inward. I stamped the upper left hand corner first, then the right, trying to stay just as far from the edges on both images. I then centered the stamp between the two images to place the third image in the middle. Repeat the same process for the bottom half. Don't worry if the images are a little askew. It will look fine so long as they are uniformly spaced.
Give It A Splash Of Color. The last step is to add some color! I used a set of markers I had on hand. They were Martha Stewart craft brush pens. They have a brush tip with a pointed end which makes it quite easy to add color to small images without going out of the lines. They also have really bright colors! Although any marker will do and there are plenty available on the market, online, and in arts and crafts stores. If you are really into crafting and cardmaking you could even go with a more expensive pro-quality kind of marker. I hear nothing but great things about the Copic markers!




Do It Yourself Invitations Homepage > Make Your Own Birthday Invitations > 21st Birthday