Printable Invitations Text Template
Create Our Baby's Party Patchwork Invitations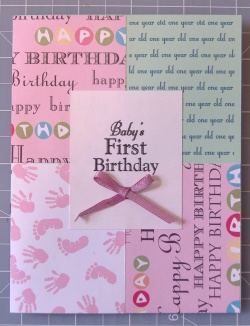 Love our "patchwork" Baby's 1st Birthday invitations?
This text only crafts template will make creating our DIY invitations a breeze. Just print the file onto plain white paper and trim the pieces to use in making the cute patchwork invites.
This template file is in the form of a PDF file and is set up and ready for you to print straight onto card stock or plain white paper and start making your invitations right away.
To create the same invite as I did for the first birthday invitation, start by printing the "one year old" graphic image onto a card stock in a color of your choice. Add squares of decorative paper to the other three corners of the card using a glue stick or adhesive.
Print out the "Baby's First Birthday" text box page onto a separate page. I used white card stock for mine but plain white paper will work fine as long as it is good quality. A lower quality paper will be very flimsy and you will see the other papers right through it.
Once you have the page printed out cut the "Baby's First Birthday" squares out using either a good hand paper cutter or a cutting mat, ruler, and exacto knife to get a good straight clean cut. Cut just inside of the lines to eliminate the black borders around the text (they were only created as guidelines). Use a good glue stick or adhesive runner to coat the back of the paper square and attach it to the front of the card centered as best as possible.
For complete instruction to create this invitation go back to The Cute Patchwork First Birthday Invitations page.
Download and print the 1st birthday invitations template PDF file.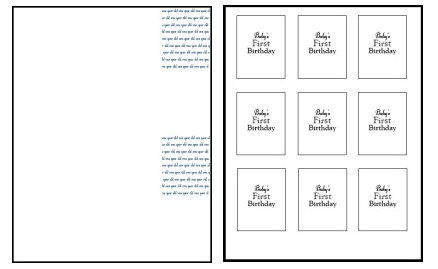 Free printable customizable text template for the inside of the card
---