Homemade Baby Shower Invitations:
Unique and Easy To Make Ruffle Cards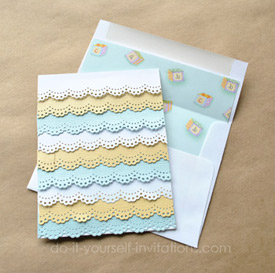 Looking for a homemade baby shower invitations idea that is easy to make and pretty too? These ruffle cards are a perfect easy DIY invitation idea! All you need is a lacy ruffle border punch and some pretty colored paper. These invites can be made for any baby shower. Switch the colors up to match your theme party; for a baby girl or boy, or even a gender neutral party.

Homemade Baby Shower Invitations Supplies List:

colored paper or cardstock




Start by creating a folded or flat printed card. You could simply print the party details onto some plain white cardstock and cut it to size, or fold the paper into a card and hand write onto the inside. YOu could also choose to simply buy a package of blank cards and print the details to the inside of the card. This is always a great option since most of the time the cards will even include envelopes!

Choose 3 different colors of cardstock or a nice sturdy paper. Make sure and choose some nice coordinating colors. Different shades of pink for a baby girl invitation, or shades of blue for a boy's invitation. I went for some somewhat neutral color tones for my invitation set, so I chose a yellow, aqua blue, and white.

Cut the colored papers into strips. One to one and a half inches is fine. It helps if all the strips are roughly the same width.

Use a decorative border punch with a lace or ruffle edge to punch a pattern down one entire edge of the paper.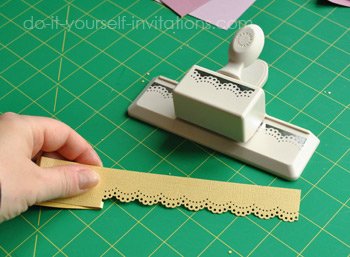 Measure the width of your invitation and then trim all of the punched paper pieces to the same width as your cards. You can choose to do this before punching the pattern as well.
To complete the invitations apply a strip of glue or adhesive runner to the top of each ruffle strip. Starting at the top attach the pieces one at a time to the front of the card. Make sure and only apply glue at the top. You will be tucking subsequent pieces slightly underneath each strip.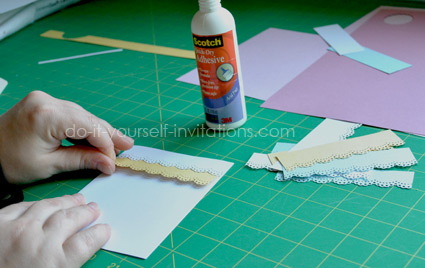 Continue to apply a strip of glue to alternating colored pieces and tucking slightly under each piece. Continue down the front of the invitation until it is covered.
There you have it! Extremely cute and versatile homemade baby shower invitations. Your guests will love them!
More DIY Baby Shower Invitation Ideas