Free Printable Halloween Invitations:
Unique Coffin Invitation With Template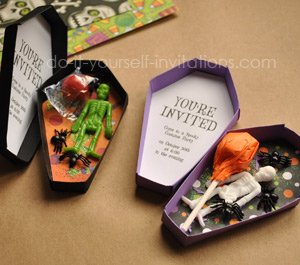 This free printable Halloween invitations template is perfect for making truly unique Halloween invitations and kick off your holiday costume parties with a bang!

The template include a printable coffin shaped box template with a customizable invitation wording template to fit into the lid of the box. Simply print the template, create your very own paper coffin invitation, fill them with treats and Halloween goodies, and hand them out to your guests!








How To Make Unique Coffin Invites Using Free Printable Halloween Invitations Template
Supplies and Materials list:
8 1/2" by 11" colored cardstock or patterned paper
scissors and/or paper cutter

glue or adhesive
Halloween goodies and treats
glitter and confetti (optional)



Step 1: Print the coffin box and invitation wording template.
Start by downloading and printing the free printable Halloween invitations coffin template. Print the template onto a cardstock of your choice. You can even use a patterned paper/scrapbooking paper but be mindful of using a paper that is on the heavier side, close to the weight of cardstock.

You can even use black cardstock as I've shown above. Yes, I actually printed the template onto black cardstock. The template showed up very faintly but as long as I held it at an angle to the light I could see the guidelines for cutting and scoring!

If you do decide to use black cardstock, just a reminder to be mindful of printing the second page of the template onto a white or lighter colored cardstock.


Step 2: Creating the paper coffins.
After printing onto the paper of your choice, using a pair of scissors or a paper cutter cut the coffin template pieces from the paper on the dark black outer lines.

Using your favorite scoring tool (I prefer to use a bone folder and ruler) score the paper on all of the blue lines. I also added a score across where the corner tabs fold in half.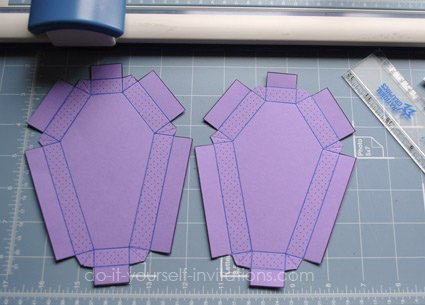 Fold all flaps in towards the inside of the coffin. Fold all corners in as well.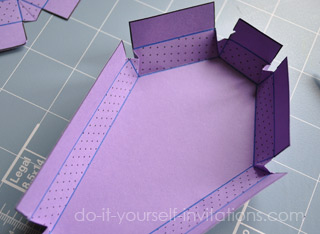 Unfold all edges and apply glue or adhesive of your choice to the dotted areas of the template. I used a permanent adhesive runner and found it to work extremely well.
Fold corner edges inwards first pressing them to the right or left. Fold top flaps inward to hold the coffin in place. The template creates both a coffin and lid.

Step 3: Filling the inside of the coffin Invites
The free printable Halloween Invitations template also includes a customizable text template to print the invitation wording into the lid of the coffin. You can type your own wording into the template and change the fonts, font sizes and colors to suit your needs. To change the fonts and colors simply highlight the text and press "Control" + E to bing up a text tool palette.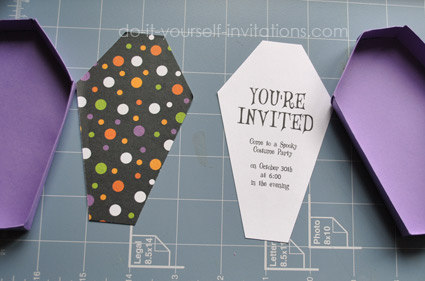 The wording templates are meant to be printed separately, trimmed to size, and inserted into the top of the lid. I also like to cut a second piece of colored or patterned paper to place into the bottom of the coffin. You could also use small pieces of felt or velvet!

Lastly, add some cool Halloween doodads such as little toy skeletons, spiders, and other creepy crawly creatures. You can also add glitter, confetti, and small pieces of candy!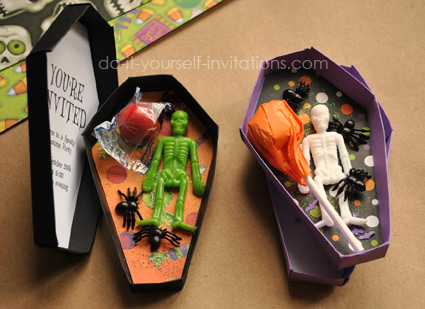 I recommend handing these out in lieu of mailing them, but you can definitely get away with mailing them if you wrap the coffin with a strip of pattern paper (decorative and functional!) and secure with adhesive and tie with a pretty ribbon. You can even tie on Halloween charms or tags!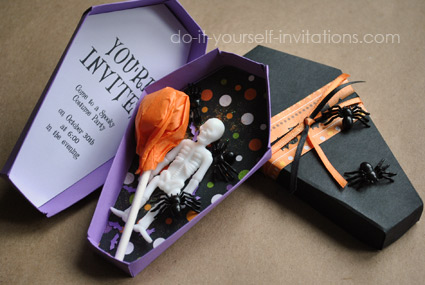 I really hope you enjoy creating unique invites with this free printable Halloween Invitations Template! I'd love it if you all share your creepy creations with us by posting your homemade Halloween Invitations in our visitor Show and Tell gallery!