Make Your Own Footprint Baby Shower Invitations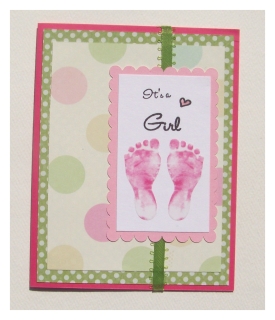 I made these footprint baby shower invitations using cute baby footprint stickers.
You could make these same invites multiple ways by swapping out the stickers for a rubber stamp or a footprint paper punch.
I made these by layering some coordinating papers for the background, used a rubber stamp for the "It's a Girl" wording, and my electronic die cutter in conjunction with the Sure Cut's Alot software to create the pink scalloped edge box. You can create the same effect using some craft scissors, but I am including the SVG file I created for all of you SCAL users just in case.


Materials you'll need to re-create the Footprint Baby Shower Invitations:

* 8 1/2" by 11" cardstock or blank cards

* 2 coordinating decorative papers

* coordinating colored cardstock

* footprint stickers, rubber stamps, or paper punches

* ribbon

* glue/adhesive runner




To make these footprint baby shower invitations, I started by creating cards from a bright pink colored cardstock. To make the cards I simply cut some 8 1/2" by 11" sheets in half width wise. I then folded each individual half to create two folded cards measuring 5 1/2" by 4 1/4".

The next step is to cut the decorative papers down to size. You will be layering one on top of the other. The first layer should be cut to 5 1/4" by 4". The upper layer will be 3 5/8" by 4 3/4". Use a good adhesive to attach these to the front of the card. I like to use a permanent adhesive glue runner. Layer each piece centered one over the other.

Now is a good time to start creating the centerpiece of the footprint baby shower invitations. To create the "It's a Girl" footprint ornament I used a combination of rubber stamps and stickers, as well as using my Sillhouette Die Cutter to create the scalloped edge pink card stock piece.
You can use any footprint craft tool that suites your fancy. Stickers, rubber stamps, or even paper punches. Therefore the sizes of this ornamental piece can be adjusted to fit your invitations.

I first cut some white cardstock into rectangles measuring 1 7/8" by 3 1/4". I then used a clear rubber stamp to stamp the "It's a Girl" wording onto the top of the rectangle, following up by affixing the pink footprint stickers to cardstock arranging them beneath the wording. I used a pink marker to fill in the little heart on the stamp. I created a scallop edge box and saved it as an SVG file to use with Sure Cuts A Lot software. You could create the same scalloped edge box by hand using some scallop edging scissors. Simply cut a rectangle from colored cardstock slightly larger than you would like it fit on the card (about a 1/4" larger). Using a ruler and scissors draw a margin on all four sides of the rectangle about an 1/8" inch in from the edge. Use this line as a guidelines for cutting with the paper edgers.

Next attach some ribbon down the edge of the card facing vertically, about 1 1/2" in from the edge. I used a glue runner to do this. I laid the ribbon down on some scrap paper and apply the glue to the back. Make sure and do this over scrap paper as a little adhesive almost always goes astray and can cause problems if left in the wrong spot. That stuff is sticky! Lay it flat over the card so that it overlaps a little on the top and bottom edge. Flip the card over and trim the edges off using scissors or a craft knife.

Last but not least, using some glue or permanent adhesive attach the white cardstock ornament to the colored cardstock scalloped rectangle centering the paper as best as you can. Apply some glue or adhesive to the back and center it on top of the ribbon and centered from top to bottom of the invitation. Viola! Super cute footprint baby shower invitations worthy of a paper boutique!






Products used in this tutorial

* K & Company paper BW Small Wonders Girl - Sorbet Dots

* Green Dots paper from DCWV Nana's Nursery Baby Boy stack

* Fiskars clear stamps "The Stork Has Arrived"

* EK Success vellum stickers - Baby Girl Prints





Do It Yourself Invitations Homepage > Make Your Own Baby Shower Invitations > Footprint Baby Shower Invitations