DIY Butterfly Baby Shower Invitations
Looking for a bit of a different kind of invitation? These elegant and modern baby shower invitations are sure to stand out! I wanted to stray away from the usual cutesy bubbles and diapers and baby bottles, and show that you can create baby shower invitations that are a bit more modern and whimsical yet still have a feel for the child-like. I put these together with somewhat sophisticated images but with bright colors you may find in a little girl's bedroom. They turned out quite beautiful if I do say so myself. ;-)

These invitations really wren't too hard to put together. They will be a perfect idea for anyone looking to create some butterfly baby shower invitations. To create the butterfly images I used clear rubber stamps, some colored ink, and a little irridescent embossing powder.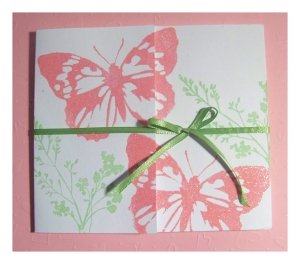 Materials used to create these butterfly baby shower invitations:
* white 12 by 12 inch cardstock

* clear rubber stamps and colored ink

* embossing powder

* adhesive runner

* ribbon

* decorative paper (optional)

To make these elegant and modern baby shower invitations I started by taking my 12" by 12" sheets of cardstock and cutting them in half to create 6" by 12" strips of cardstock. To create the base of the card I held the paper horizontally and folded the sides in toward each other so that their very edges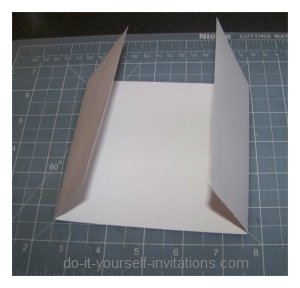 overlapped by about 1/8" - 1/4".
To create the butterfly and plant images I used clear stamps. Clear stamps are rubber stamps which come as a set which are unmounted. To use them you must also have a clear stamp block which you will affix them to when stamping. These stamps are awesome! I will never go back to using a regular wooden mounted stamp again (unless the image is particularly unique fo course). When using clear stamps it is so much easier to see where you are stamping s there are far fewer mess ups. After you are done you can peel the stamp off of the block and put them right back in their package for the next use. Very cool!!
Anyhow, I started by creating the butterflies. I used a bright pink stamp ink and, reapplyng after each stamp, I stamped the imag twice on the front of the invitation.
I decided to emboss the butterflies so I made sure and stamped them quickly one after the other. After both were stamped onto the card I quickly dusted them with some embossing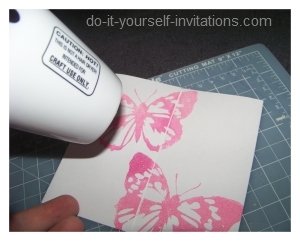 powder covering them thoroughly. I used a clear irridescent powder. You could also stamp the butterflies in clear embossing ink and then apply colored embossing powder. I like to use colored ink so I can see my image clearly to know if I screwed up when stamping.
After dusting with embossing powder I gave the entire invitation a godd tapping to make sure and get any excess powder off. I then applied a heating tool to cure the embossing powder on the the front of the invitation. These heating tools are somewhat like super duper hot tiny hair dryers (although I definitely would not use them on my hair). All you do is point it at the powder and heat it up. You can see it curing the powder, turning it from a foggy dull texture to shiny and slick.
Next I changed my rubber stamp to that of a wild flower plant image. I changed ink colors as well, switching from bright pink to green. I stamped the plant image around the outer sides of
the card around the butterflies. I decided not to emboss the plants. I like the different textures of the images on the crads. It makes the plnts seem more in the background as well.
To attach the ribbon to the card I used a small 1/8" round paper punch to punch two small holes to the middle of the inside of the invitation. I laced the ribbon through so that the ends came out the back of the card. I then pulled them from the back to wrap around to the front to tie the invitations shut.
To add the wording to the card I cut out some 5 1/2" byu 5 1/2" squares of decorative paper with a coordinating pattern. I attached the paper to the inside of the modern baby shower invitations using an adhesive runner with permanent glue. I then printed the wording for the invitation on plain white 24 lb. paper and cut this into 5" by 5" squares. I glued these down to the inside of the invitations centering it inside of the decorative paper. To finis the invitation I simply tied the ribbon into a bow on the front of the invitation and trimmed the ends of the ribbon at an angle, and so they both hung equally. That's it! Relatively simple to put together unique and modern baby shower invitations.
See Also
silly and funky baby gift thank you card

Have you recently made your own invitations?
Want to share them with us?
Have your handmade invitations featured on our Do It Yourself Invitations!
Just visit our Reader Submissions Page and tell us about your handy work!

Do It Yourself Invitations Homepage > Make Your Own Baby Shower Invitations > Butterfly Baby Shower Invitations