Lingerie Bridal Shower Invitations
Create Lacey Lingerie Shop Inspired Invites!
While I was creating these sultry and sweet bridal shower invitations all that kept coming to mind was lacey undergarments and one of my favorite lingerie shops - Victoria's Secret. They're signature is all pink and lace!

So I created this printable template with a nod to their signature garment bags and boxes. I tried to pair it with some very sexy fonts I scoured from the internet (some pretty awesome freebies I might add!). You can add your own wording and play around with fonts and colors.

Top this very sexy invitation with some lingerie lace and ribbon of your choice! I used a nice white lace with a baby pink ribbon. But you could switch things up by using black or hot pink lace. Add some rhinestones of fabric flowers!




Create Your Own Lingerie Shower Invitations
These invites are really easy to make, I promise! And so inexpensive! All you really need is some cardstock, your home computer printer, some glue, and a roll of lace and/or ribbon. You can buy the lace for around $4 at most any craft or sewing store. Heck, you can even get some in the craft section of Walmart!


Step One: Start by downloading and printing the lingerie bridal shower invitations template.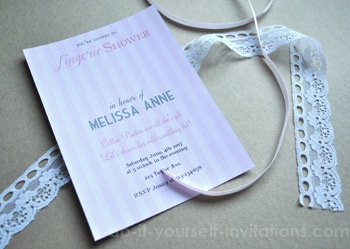 Open the template with the latest Adobe Reader (you can download it free on the net if you don't already have it installed). You can change the wording, fonts, font size and color by highlighting the text and pressing the Control and E button at the same time (Command and E for Mac users).
Play around with the wording until you are happy with the way everything looks. Print the file onto some heavy cardstock paper with your printer's highest quality settings for. I recommend a test print to make sure you have enough room for your ribbon to fit, as well as to test the quality of your printer settings.

Step Two: Once you've printed all of your invitations you'll need to trim them from the paper. I use a rotary paper trimmer to cut my paper. If you don't have a good paper cutter, or a friend to borrow one from, you can go to most any copy and print store and have them trim them on the spot for a reasonable fee.

Step Three: Add Your Lace and Ribbon! Cut your ribbon into lengths of about 4.5 to 8 inches long.
You'll be wrapping the lace around to the back of the invite, so it's all about preference as to how long you'd like to cut your ribbon. I like mine long so that I could wrap it all the way around in the back to meet in the middle. I just like it to look finished even on the back!
I attached a small baby pink ribbon across the front to peek out under the lace. Of course you can choose to use lace only as well.
Use a quick drying glue or adhesive runner to attach the ribbon and lace across the front of the invite. You can use a bit of scotch tape to make sure the lace is fully held in place in the back.
Tie a bow with some matching ribbon or lace and glue it to the lace band just off center. You can also opt for paper or fabric flowers, or rhinestone bling. The idea is to create the idea that the invite is wrapped in a garter!

That's it! You're done. See they are pretty easy to make don't you think? I hope your guests really enjoy these handmade invites! As always I love to see your finished creations and you can even share them on our site by posting on our reader submission page!
The Sexy Fonts!
My readers are always asking for advice on font choices, or simply "what is that fantastic font you used on "xyz" invitation?"

The fonts make the invitation! And certainly played a part in sexifying these lingerie bridal shower invitations! Here's the low down...

Script Fonts:

Sverige Script font
Monterey Script


Serif and San-Serif:

Oldstyle Small Caps
Market Deco
Mary Jane Antique











Do It Yourself Invitations Homepage > Bridal Shower Invitations > Lingerie Bridal Shower Invitations