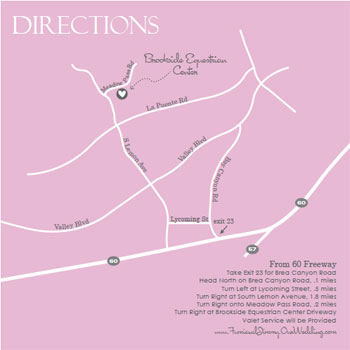 cusotm size and color
What Our Clients Have Said
"Thank you for a wonderful job well done! Thanks for making EVERY change I asked in a VERY timely manor. Your response time back to us was absolutely GREAT! I will definitely recommend you to others when they are looking for the services you do! Thanks again! It was a pleasure working with you!" -
Jennifer from Grimes, Iowa


"The designer did an incredible job. She designed two maps for me. The maps were functional, accurate, aesthetically pleasing, and complete. She was very professional, easy to work with and made sure the finished product was up to standard. Unlike other online map designers, I had my finished product in hand and ready to mail within 2 days with minimal cost. Thank You!" - Joni, Portland, IN


"This was the first time I had ever had a map and directions made for me. The designer was extremely quick to get back to me with my first draft and even my final. I will definitely be using this site again in the future." - Martha, Houston, TX



"Planning a wedding can be hard to coordinate; if everyone was as professional and competent as "Do It Yourself Invitations" it would be a breeze. The design was beautiful, the process easy, faster than expected and the outcome exactly what I had hoped for. Thank you!!!" - Ellen, Sharon, Massachusetts



Outstanding product & service! Thanks a million times over for a great product, and even better service! We received an immediate response from the designer, and had a draft to review right away. Edits were made quickly, and our final product was outstanding. Moreover, it saved us an incredible amount of grueling hours trying to design the map ourselves! Use this service if you desire professionalism at a fair price." - by Annie & Phil, Minneapolis, MN



"Fastest service EVER! Thank you so much Delilah!!!
We had a super rush order which was an extreme importance to me as we had many out of town guests attending. I needed my invites out YESTERDAY! :0
I ordered double side wedding invitation maps and out of town guest maps for my relatives flying in from out of state. I placed a rush on my order and was able to print out all of my invitation maps THE VERY NEXT DAY! Wonderful customer service. I'll be sending anyone I know in need of a service like this your way." - Andrea, Marshfield, MA



"I would recommend this service to ANYONE! I ordered custom printable invitations with matching RSVP and dinner menu cards to match. I absolutely LOVED the design that Delilah came up with! She helped me to create invitations that went perfectly with my wedding theme that I would have NEVER found in a shop or printer's.
The INVITATION MAPS were incredible! They matched the color and style of my invitations and were just beautiful!
Lastly, I also ordered printable wedding programs that matched all the rest of my stationery and you would have never known that I pretty much DIYed everything. I punched holes into the programs after printing and laced a ribbon into the fold to tie into a bow. They came out so pretty.
As for service, You couldn't get better customer service. I loved that I was always given plenty of choices and was very involved in the creative process. She kept me up to date at all times and was SO FAST. Thank you so much!!! If I ever need a service like this again I will be back and I will tell everyone I know!!" - Samantha, Enid, OK



"Our reception site offered maps for us to use, but I really wanted the map to have the hotel information too! We went with the 4 to a page single sided map. From start to finish, the process was easy, painless and FAST. You were able to accommodate every need, and every change or "suggestion" I had! I really appreciated that you put together two different maps for me and let me chose which was more of what I was looking for! That was GREAT Customer Service and I will not only use you again, but recommend you to anyone!" - Cortney Mullin, Steger, IL
Share Your Experience!
Did we recently make a custom printable wedding map for you? We'd love for you to share your experience with our visitors! Feel free to leave your comments, or constructive criticisms.