Free Printable Snowflake Wedding Invitation
Use our snowflake wedding invitation templates to make simple DIY wedding invitations using your home computer printer. This invitation is perfect for any winter wedding, and is also available in three different colors. Back your DIY invitations with coordinating colored cardstock to create elegent handmade wedding invitations that will not break the bank. Everyone planning a wedding can use to save some money for other important wedding planning details!




Using these printable invitation templates you can customize your invitations to suit your needs. Change the font, text coloring, sizing, and alignment. Simply open the file on your computer and save it to your desktop or another location you will remember. Highlight the text with the text typing tool, and get to typing! After you have your wording typed in how you like it, highlight the text you wish to change and hold down the letter "E" and the "Control" button at the same time. This will bring up a tool palette to use which will allow you to choose different fonts, sizing, alignment, and even custom colors!

If you'd like to see some more printable wedding invitations, or invitation kits make sure and swing by our Printable Invitations Shop where you can buy everything from printable invitation sets with RSVP and thank you's, to deluxe kits containg everything down to programs, place cards, and even wine labels.



Snowflake Wedding Invitations Templates Instant Downloads
(click on any of the images below to download a template)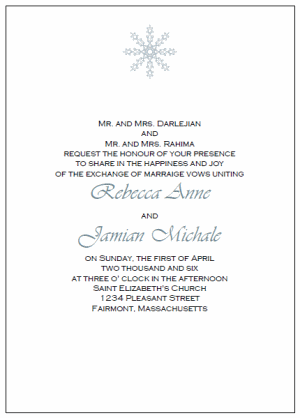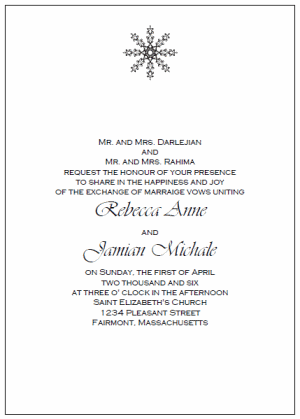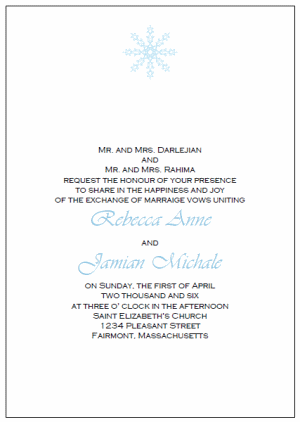 To download and read any of the above PDF files you will need to install the free adobe reader.


Need some nice fonts to use with your templates? Check out 1001 free fonts or Dafont for a vast library of assorted fonts to download for free.
For more printable wedding invitation choices be sure to check out our printable templates section. We have aome very affordable invitation kits available in small and deluxe sizes including everything from simple RSVP cards, and Thank You notes, to packages chock full with everything from place card and STD's to favor tags and programs.



Do It Yourself Invitations Homepage > Make Your Own Wedding Invitations > Free Printable Snowflake Wedding Invitations