Printable Baby Shower Invitations Templates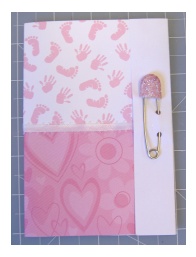 Use these printable baby shower invitations templates to make the same diaper pin closure invitations I made. Follow the link for complete instructions.
I have provided several printable files all in the form of a PDF. Each template has two pages of text. One page to make baby shower invitations or use the second page to make diaper shower invitations. If you do not already know, a diaper shower is thrown when a mother is having her second or third baby (or more) and is for the purpose of buying the new Mom-to-be useful things like diapers and wipes and things. Hence the name diaper shower.
All of these files should be printed onto cardstock to make these invitations correctly. The 2-up invitations should be cut in half after printing or copying. Add decorative papers, ribbon and the diaper pin closure and you've got yourself some really cool baby shower invitations.
---
In order to view or print these files you will need Adobe Reader (the latest version is recommended) installed on your computer.You can get Adobe Reader here.

---

I have three different invitation templates to offer. The first is designed to make the invitations out of a full 8 1/2" by 11" piece of cardstock.
The second file is to make the invitations out of half of a page. To make these you would need blank invitations made to fold the same way intended for this invite or have your cardstock cut ahead of time and print them straight off of your computer onto the smaller paper.
The third is a 2-up layout designed to print or copy onto 8 1/2" by 11" cardstock and then cut to create two seperate invitations.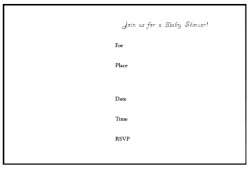 Click here to download the full page
baby shower invitations text template.
Click here to download the half page
baby shower invitations text template.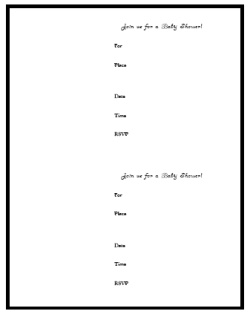 Click here to download the
2-up printable baby shower invitations template.
Go here to see complete instructions to make these invitations.
---
go from Printable Baby Shower Invitations Templates
back to Baby Shower Invitations page
back to DIY Invitations Homepage