Tips and DIY Ideas On How To
Make Your Own Postcard Invitations
Postcard invitations are a really popular and affordable choice for creating DIY invitations. These invitations can even be created to fold shut with your details on the inside to conceal your party details if you do not want to broadcast your plans to the world.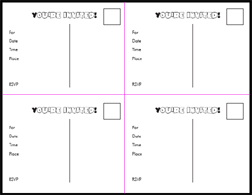 Need some tips or simple how-to's on putting together easy Postcard invites? I'll even go a step ahead and offer printable postcards and templates for DIY invitations and greetings. With a little planning and creativity you can create something that is not only inexpensive but crafty and adorable too!
Ready To start?
Creating Simple Easy DIY Postcard Invitations
One of the most simple to make postcard invites is created by simply cutting a regular sheet of standard cardstock into quarters. If you design your invitations to fit four on a page (four-up) then after designing/printing/creating the invites you can simply cut the page into quarters and viola! You've got 4 invitations per standard sheet of paper!

One of the easiest possible ways for you to create a DIY postcard invite would be to use one of our printable postcard templates. Use either of our handy templates to print and create a crafty DIY invites.

One template is a simple "print and create" template. Use this template by printing it onto some heavy cardstock paper, and cut the paper into quarters. You can decorate the postcard by hand using deocrative paper, hand drawing or doodling artwork, or scrapbooking. Simply fill in the party details by hand and send them off!

There is also a customizable template which you can use to make a little bit more of a polished invitation. With this template you can type in your own personalized wording and change up the fonts, font size and color.

Pair this with a crafty and decorated postcard or even choose some artwork or graphics from your computer and print them four to a page or straight onto the cut paper postcards.

Jazz it up a bit! Try using some glitter around the borders! or maybe a little embossing ink paired with rubber stamps! Glue on some ribbon or other embellishments! just keep in mind that whatever you use must withstand going through the mail!




Print Your Own DIY Postcard Invitations
I also offer an array of printable postcard invitations which you can print double sided and use as an invitation or as a regular old postcard.