DIT Invitations Papercraft Supplies:
Glitter and Flock and All That Sparkles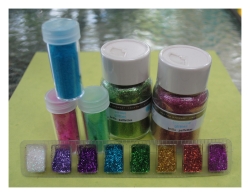 Here is where the F-U-N comes in with papercraft supplies and making your own invitations and handmade greeting cards. This is bringing glitter and glue beyond you preschool and elementary days of creating paper plate crafts and such. Use these products in conjunction with the right glues and tools to create amazing cards and invitations, and bring your papercraft projects to the next level.



All The Fun And Bling
Fine Glitter - Speaks for itself! This is glitter that is made up of super tiny little shiny glitter specks. Oh yes, this is the stuff you will find on your clothing, in your hair, under you fingernails, and periodically stuck to your face. And for weeks. But it is SO fabulous. It's beautiful kind of like pixie dust, and can be found in a myriad of colors.

Chunky Glitter - This stuff is pretty much your standard everyday glitter. The same stuff you might find in a shaker or a tube hanging out in the kids crafts department, or your kids preschool class. I like to use it in certain whimsical kinds of projects, as well as any that I might get my kids involved in, since it is usually less expensive.

Tinsel Glitter - Tinsel glitter pieces tend to be longer. Instead of little pebble or tiny square pieces that are actually longish and skinny. And very shiny!

Sugar Coating - Sugar coating is super big chunks of glitter with lots of iridescent pieces within. It reminds me of using big old colored pieces of natural sugar! It's very, very pretty!

Flock (flocking powder) - I have a special place in my heart for flock. And so does my four year old daughter. The stuff is great! Using flock you can get that nice soft velvety feel to your paper. Kind of like super fine fur. To use flocking powder , for best results, use a glue pen. Stamp an image onto the paper you are working with. Color in the section that you would like to add a nice velvety texture to, and sprinkle on the powder. Let it dry for a minute and then shake off the excess. I like to combine it with stamped images of animals or people in sweaters or scarfs. :-)



Best Glues For Glitter and Flock
Glue Pens - These are best for fine precision. I like to use these when I want to draw something very specific in which to depict in colors of glitter or flock, or for filling in simple handwriting. Also a great tool to add glue to very small and detailed areas. Such as a very small area within a drawing or stamped image.

Quick Dry Adhesive (precision tip) - Scotch makes a precision tipped adhesive that is hand down my absolute fave to use. It dries just fast enough, yet gives me enough time to get the glitter or materials on there before it is too late. The tip is very tiny to allow for very small amount of glue to be used, and in a very small stream.




Browse Papercraft Products: Glitters, Glues, and Flock


DIYI Homepage > Make Your Own Invitations: Cardmaking Tools and Supplies > Glitter and Flock