Free Printable Easter Cards
Use Our Template To Make Your Own Cards Or Invitations For The Holiday
This free printable Easter cards template is an easy and inexpensive solution to your upcoming holiday stationery needs. This template is interactive which means you can customize and personalize to your needs. Use it to create cute Easter Holiday cards or even make your own Easter party invitations.

Hosting an Easter Egg Hunt? This template make the perfect invite to compliment your event! What better a theme for Easter egg hunting than eggs and baby chicks?

Having a kids Easter Party? Also included with this printable Easter extravaganza is some matching printable cupcake toppers and DIY party pinwheels! To use the templates simply print them onto some heavy weight white cardstock, and trim the pieces to size using our handy cutting guidelines. Follow the individual instructions from there on out. Please note that you will need Adobe Reader or another PDF reader installed on your computer in order to use the templates.





Free Printable Easter Cards / Invitations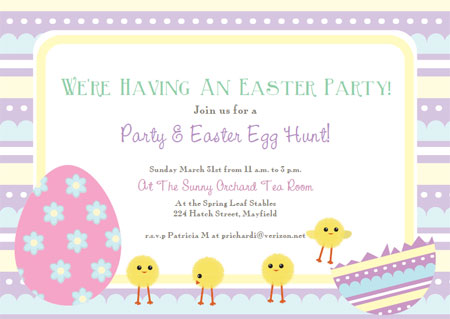 Free Printable Easter Cards Set
This download contains the complete set with a customizable invitation template, and printable cupcake toppers and pinwheel decorations. To use the free printable Easter cards template click the link or graphic above and save the PDF file to your computer. Personalize the text within the template by highlighting the text with your cursor and pressing CONTROL and E to bring up a tool palette. You can change the text font, size, alignment, and color.
Print the invites onto some heavy weight cardstock using the highest quality settings on your computer printer. Trim the paper by following our cutting guidelines to create a 5 x 7 inch invitation. Perfect size for matching envelopes! You can use the invites/cards "as is" or go a little further by adding some ribbons, decorative paper, or glitter glue!
Printable Easter Cupcake Toppers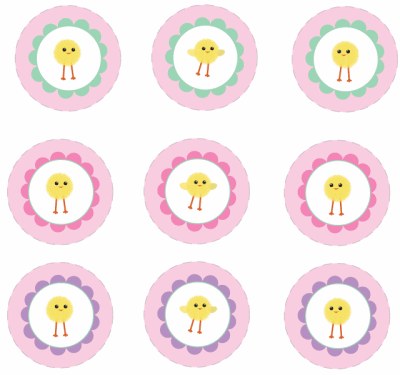 Printable Easter Cupcake Toppers
Cupcake toppers can dress up pretty much ANY cupcake! Simply frost your cakes in any color available (pastels are best with these toppers) and pop a topper in to turn them into tiny cake masterpieces!
To create cupcake toppers print the template onto some heavy cardstock. Cut the toppers out by cutting on the guidelines. Glue the toppers together back-to-back while inserting a popsicle or lollipop stick in the middle. Once they are dry they are ready to pop into the top of any cupcake. You can also use the to wrap around straws as a cute party favor for kid's drinks!
DIY Easter Pinwheels
Pinwheels are the perfect compliment for any Easter Sunday, party, egg hunt, or not. You can even laminate them and place them out on the lawn as pretty Easter decorations, or simply make a bunch and have them on hand for your young family and visitors. This template is easy to use. Simply print it out onto some sturdy heavy weight paper or cardstock. Punch some holes and trim where the guidelines indicate, and use a small brad to hold the pieces together by folding the outer edges in and securing all through the middle with the brad. Use a glue gun to attach a stem and you're done! Pictures to follow on these; I promise, pinky swear!!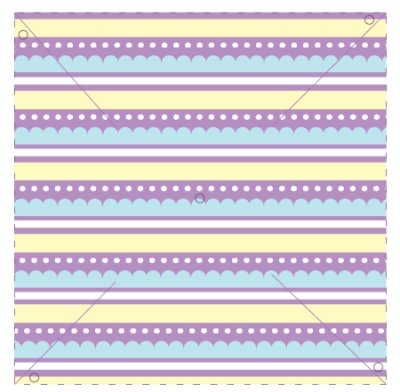 Easter Pinwheels Decoration pattern/template

Do It Yourself Invitations Homepage > Printable Invitations And Templates > Free Printable Easter Cards Or Invitations