Create Baby Shower Invitations
With Our DIY Printable Template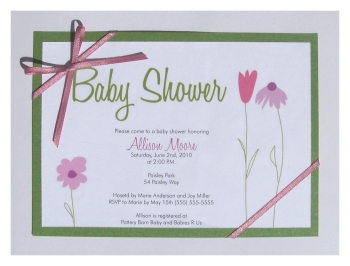 It's easy to create baby shower invitations that our easy to use, affordable, and stylish, with our printable invitation kits. Our printable kits are interactive so that you can customize your own wording, fonts, and font colors to match your party!
I wanted to show how easy it is to add some DIY touches to our templates to make it really stand out and pop. The invitation templates are very easy to use. The kits are available for instant download, and come with many accessories to match your invites, such as cupcake toppers, pinwheels, and more.
To create baby shower invitations like the one shown above you'll want to have on hand your choice of white printer paper, some colored or decorative card stock, ribbon, and a permanent adhesive glue runner. You could even add some glitter or rhinetsones to really make those flowers pop! I just love how you can take a such a simple and modern design and turn it into something really beautiful and personalized.
Where To Start - The Basics
To customize your template highlight the text you wish to change and type in the wording to match your baby shower event details. You can change the font, size, and even color of the font by holding down Control and E at the same time to bring up a tool palette.

I recommend printing your invitations onto high quality paper and using the highest quality settings for your printer. For this invitation I used high quality 24 lb. white paper printed at very fine photo quality settings.

Print your template onto the white paper. Use your personal paper cutter (or bring them to a local copy or print shop) to cut the invites to 5 x 7 inches. The templates include cutting guides so that cutting the invites to size is a snap!

To create baby shower invitations like the snazzy invites above, you will also want to cut your card stock to a slightly larger size. I recommend purchasing a fancy, colored and textured 8 1/2" by 11" card stock. Simply cut it in half andf it is ready to use!

Using an adhesive runner or double sided tape apply strips of glue to the outer edges of the back of the invitations printed from the templates. Very carefully attatch the invites to the cardstock so that the paper is centered between all edges.

Cut a long length of ribbon. Fold it in half to find the exact mid point of the ribbon. Hold the ribbon down on a piece of scrap paper and apply a strip of glue to the rbbon at the mid point. This will help hold it in place when tying it to the invitations.

About an inch and a half from the bottom right hand corner place the ribbon onto the card at an angle. Wrap the ribbon around and criss cross it on the back meeting around the opposite front upper left hand corner. Start to tie the ribbon into a loose knot.

Find where the knot will lay on the card, lift it, and then apply a small strip of glue to hold it down. This helps in creating a nice looking bow, while holding the ribbon firmly in place for you. Tie a nice neat bow. Snip the ends of the ribbon at an angle to give it a nice finished look.



Printable Flower Garden Baby Shower Kit:
Printable Invitations and Envelope Liner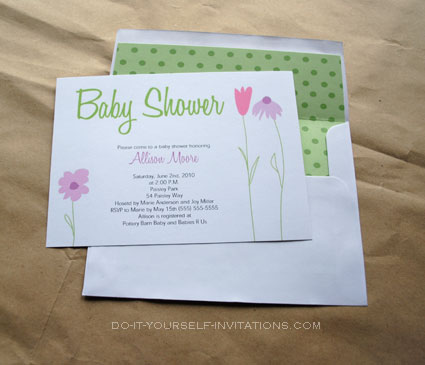 Cupcake Toppers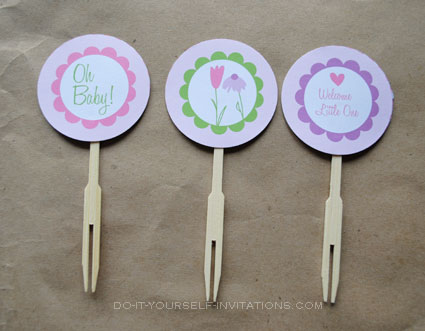 Bunting Banner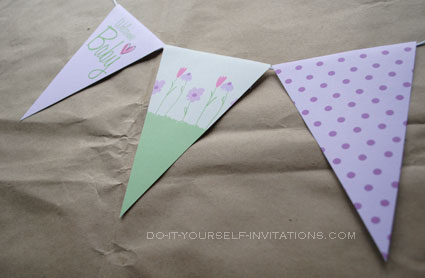 Favor Tags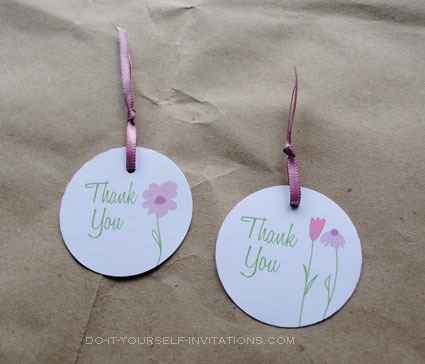 Thank You Card and Envelope Template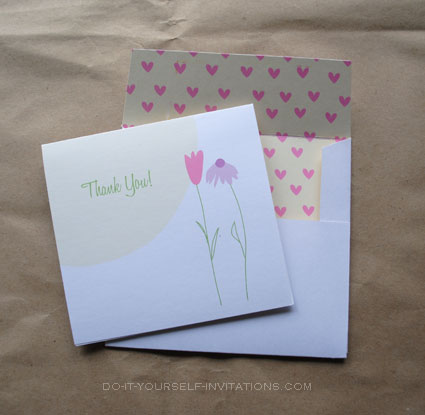 Do It Yourself Invitations Homepage > Make Your Own Baby Shower Invitations > Create Baby Shower Invitations From DIY Templates