Baby Shower Invitation Paper
One way to get your invitations to really stand out is to use decorative theme papers as baby shower invitation paper. Generally you can find these sorts of themed decorative or patterned paper as scrapbooking or wrapping paper. Although neither of these papers are intended to use in cardmaking, they work beautifully.
Scrapbooking paper - These papers are my absolute favorite to work with when making invitations and cards. They are conveniently available in many patterns that are baby, baby shower, and child related. Perfect for using as invitation paper.
The best place to shop for these kind of papers is the arts and crafts store, or scrapbooking specialty store. They are generally available by the sheet or in variety packs. There's a ton of arts and crafts and scrapbooking websites online where you can buy the paper as well. Although, many of the online stores only carry the paper in packs. When making your own invitations it is usually more cost effective to buy the paper by the sheet since 1 12" by 12" sheet can make many invitations. When I purchase this paper online I go to Scrapbook.com, where you can buy the paper by the sheet along with many, many other cardmaking supplies and tools.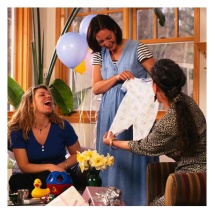 Wrapping paper - Yup I said it. Often overlooked, but when you can't find your decorative paper in the theme you want, you can almost always find it in wrapping paper. It is a little more flimsy to use than scrapbooking and other decorative papers, but it will get the job done and it's cheap. If you are going to use this to make your own invitations I suggest using a glue runner to attach the papers. Other heavier glues might warp the paper and the card.

Fancy decorative and imported papers - these are papers made for things like wedding invitations, origami, or just handmade types of paper. Use this paper for a baby shower invitation paper if you are looking to create a more elegant invitation. If you want to find a HUGE selection of really great decorative papers check out Paper.com. They have everything from 100% cotton papers and stationeries, to mulberry paper, to handmade papers from all over the world, some even embroidered. You can also find blank cards and envelopes to decorate yourself.

Whatever your choice may be all of these are great solutions to use as baby shower invitation paper.