Printable Cotton Candy Birthday Invitations
Printable Invitations Kit - Print, Create, And Make Homemade Birthday Invitations
These cotton candy birthday invitations are some of my favorite available on this site as of yet. I LOVE the cotton Candy party theme! It is such a great novelty to have an actual cotton candy machine at your birthday party! I attended a birthday party just this last summer that had one, and it really was cool! The kids were all SO excited, and I have to admit, I was too. I hadn't tasted cotton candy in a very long time before that. It's such a shame that my kids birthdays both fall smack in the middle of winter. And in New England no less. Otherwise I would certainly be pooling my resources to throw a cotton candy theme party for them this year. I may just have to do it anyhow, for no special occasion.



All files are available for instant download
for a quick and easy solution to your invitation needs.

Printable Birthday Invitation Kit:
Includes 5x7 invitation, envelope liner, cupcake topper, pinwheel,
bunting flags, and Thank You

Using the printable invitation template is easy to do. Simply purchase and download the template, and save it to your computer. Open the interactive PDF file. Highlight the text you wish to change go to town. You can change the wording, font size and color, alignment and more. This invitation comes with it's own matching printable thank you not card, as well as the 5 x 7 invitation. The invitations are set up to print two invitations to a standard 8 1/2" by 11" sheet of paper. Handy cutting guidelines are included to help make trimming these invites to size a cinch. You can also print them out and hand em' over to the professionals (the clerk at the local copy shop) to trim them for you to save some time.
Most people like to print these invitation templates onto thick, sturdy cardstock, trim them to size and use them as is. You can even choose to go a little bit further and create some fancy pants invitations. Attach the printed invitation to some coordinating decorative paper or colored cardstock. Use pocketfolds or pouchettes. You can even add glitter, rhinestones, ribbon, or charms!

* If you're wondering where to get the great fonts I used within this printable invitation take a visit on over to the Fontdiner.com where you can find some really cool and funky fonts.
For more help, questions, or FAQ's about our invitation templates please visit our help sections!
---

---
Printable Cotton Candy Birthday Invitations Kit:
Printable Invitations and Envelope Liner
Cupcake Toppers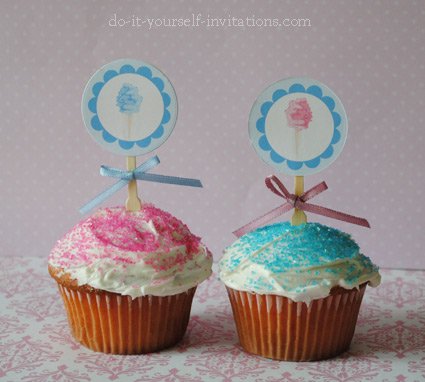 Bunting Banner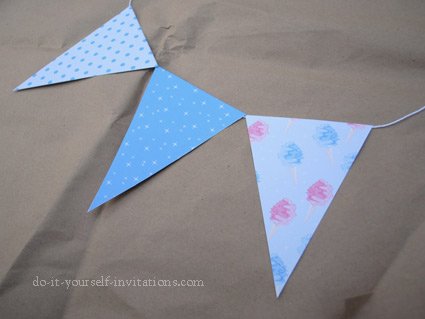 Pinwheel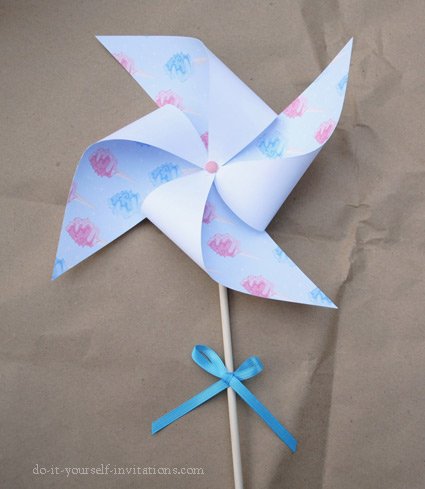 all kit items will coordinate with either pink or blue depending on which color you choose